Improvised Chilli Chicken
In-spite of being Bengali, Chinese foods are having high importance, and among Chinese dishes Chilli chicken is at the top. This preparation has been modified in a Bengali style to suit our taste.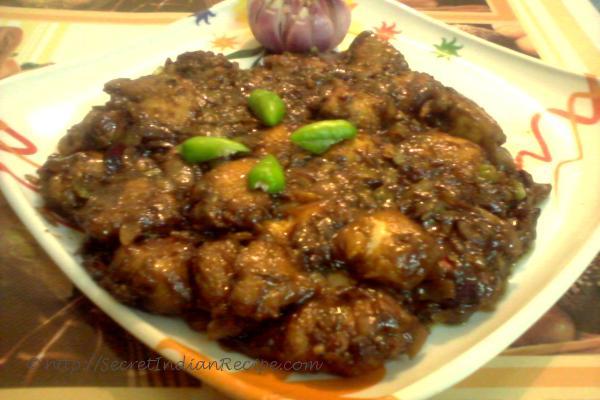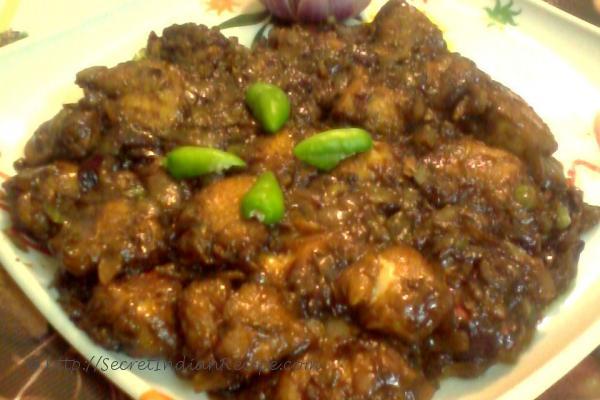 Ingredients:
Boneless Chicken- 500g
Onion chopped- 500g
Smashed Garlic- 5-6pcs
Egg- 2pcs
Vinegar- 3tablesp
White oil- 200ml
Ajinomoto- 3tsp
Dark Soya Sauce- 4tablesp
Salt & sugar- To taste
Corn flour- 3tablesp
Water-20ml
Green Chilli- 5-6pcs chopped
Directions:
Marinate the chicken pieces with vinegar and keep it atleast for 3hrs.
Now after marination time, take the marinated chickens and add bitten eggs to it with little corn flour to make the batter thick.
Now deep fry all the chicken cubes individually.
Now fry the green chillies first and then add onions in the left over oil till it becomes light brown.
Add smashed garlic and fry well.
Then add the fried chickens to the onion add mix well.
To it,add soya sauce and mix uniformly so the color is evenly distributed.
Now dilute the corn flour in little water and add it to the chicken.
Mix well to make a smooth gravy and take away from the oven.
Decorate it with Onion-Rose and Green chilli and serve hot with Noodles.
Footnotes:
In the fried chicken oil,fry the chillies first to bring a different flavor.
Other Indian Recipes that you may Like !