Kale Channe Ka Usal (sprout Bengal Gram Curry)
I am not a great fan of sprouts but I know it is healthy. And the only way I can get my family to have sprouts is by cooking it in the Malvani style. I go a little overboard with my addition of tamarind and chili powder but I love having this dish for breakfast. Whenever my brother in law comes down from Mumbai he gets goda masala, the famous Maharashtrian masla used in usal and misal. We also love this dish because it is like a chaat with the elaborate garnish it has of chopped onions, tomatoes, chopped coriander leaves, farsan and lemon wedge. Paired with a pav (the indian buns) this is heaven. There is no insistence on using sprouted gram, you can use plain ones as well, but I like to use up my sprouts so I add sprouts.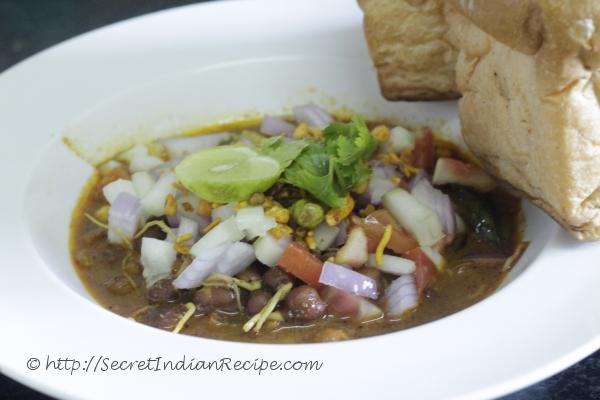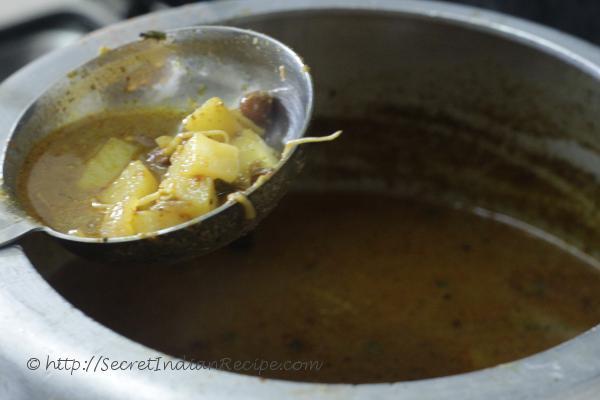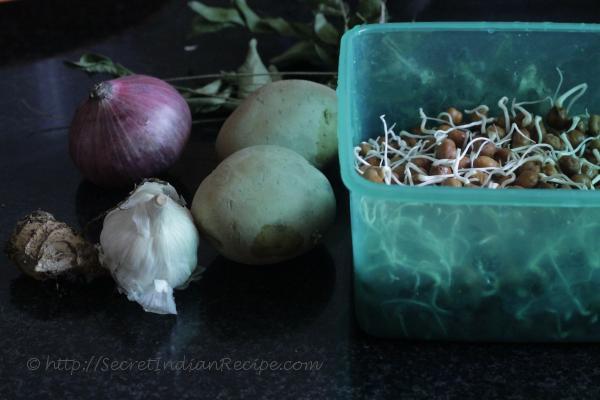 Ingredients:
Sprouted black gram- 100 g
Potatoes- 3
Ginger- 1 inch long piece
Garlic- 6 cloves
Grated coconut- 1 cup
Fennel seeds- 1 tsp
Cumin seeds- 1/4 tsp
Coriander seeds- 1 tsp
Turmeric powder- 1/2 tsp
Chili powder- 1 tsp
Goda masala- 1 tsp
Curry leaves- 2 sprig
Onion-1 + 1 for garnish
Tamarind extract- 1 tsp
Chopped coriander leaves- 1/4 cup
Tomatoes- 1
Farsan (dry snack mix)- for garnish
Lemon wedge- 1
Salt- to taste
Oil- 2 tbsp
Directions:
Wash the sprouts and peel the potatoes and pressure cook them with turmeric and salt in 2 cups water up to 2 whistles.
Heat the grated coconut in a pan till its golden. When it is golden, add the garlic cloves and sliced ginger and saute for 3-4 minutes.
Transfer these ingredients to a plate. In the same pan roast fennel and cumin seeds with coriander seeds. Now grind these spices with the ginger, garlic and roasted coconut using 3 tbsp water to a fine paste.
Heat oil in a pan and add curry leaves first. Add 1 onion sliced finely after the curry leaves. When the onion browns, add the ground masala paste and saute for 3- 4 minutes,
Add the turmeric, chili and goda masala to the gravy and continue sauteeing for 4 minutes. Add the pressure cooked potatoes and sprouts after this and also add some of the stock from the cooker.
Check salt level and bring the usal to boil. Add the tamarind extract and let the usal simmer for 5 minutes.
Serve the usal after this topped with chopped onion, chopped tomatoes, chopped coriander, farsan and lemon wedge. Usal is had with pav so serve the usal with some buttered pav.