Kaya Chemeen Ularthu (raw Banana And Prawns Stir Fry)
I was in Cochin for few days the last week. It is an annual ritual to bring some cooked prawns from home whenever I visit Cochin. These trips are a great attraction rather consolation for a foodie like me who cannot indulge in sea food shopping in Bangalore because of its exorbitant rates and effort involved. Plus the fish merchants in Cochin sell prawns after cleaning them which means you get a decent bargain without the shells avoiding cleaning. Mom always cooks these prawns with turmeric and salt and freeze it in peak seasons. She shares it with us, her daughter because we both live in non-coastal places.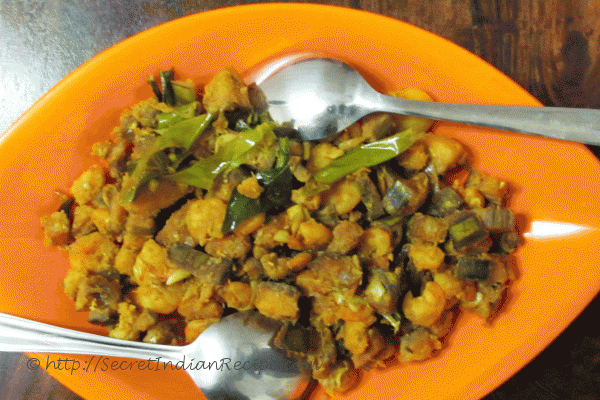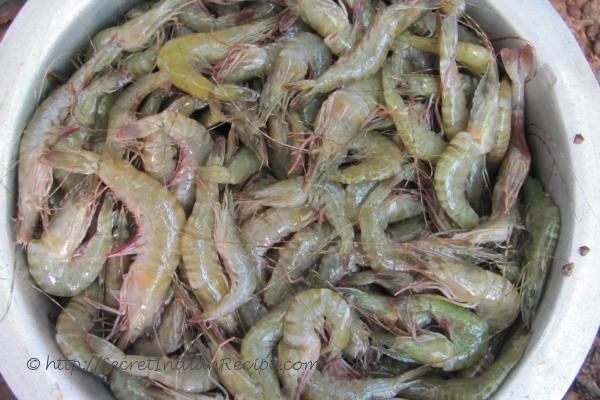 Ingredients:
Prawns- 500 g
Raw banana- 3
Shallots- 1/2 cup
Garlic- 6-8 cloves
Curry leaves- 8-10 leaves
Turmeric powder- 1/4 tsp
Chili powder- 1/2 tsp
Salt- to taste
Ginger- 1/2 inch long piece
Coconut oil- 4 tbsp
Directions:
Clean the prawns by removing their shells and veins. Cook the prawns with some turmeric, chili powder, sliced ginger, salt and 5 tbsp water.
It might take 10-12 minutes to cook the prawns. Meanwhile mince the shallots and garlic and slice the raw banana into finger long pieces.
Heat oil in a pan and add the curry leaves. After 1 minute add minced garlic and shallots.
Saute till the garlic starts to brown and add the turmeric and chili powder. Saute the spices for 2 minutes and add the sliced raw banana.
Add salt after you add the raw bananas and cook over low flame by covering the pan with a lid. Stir every 2 minutes and add a 1/4 cup water to prevent the banana from sticking.
Once the banana is cooked add the cooked prawns. Add some more chili powder if you want the stir fry spicy.
Else, cook the prawns and banana together over low flame for 8-10 minutes and the stir fry is ready.
Serve with rice and moru curry/dal or sambar.
Other Indian Recipes that you may Like !