Rhomesecrets Recipe: Lagna Shaak (konkani/ Karwari Recipe)
This dish is from Karwar a city from coastal Konkan region, in Karnataka. It is prepared on Wedding day. Although Konkani people are basically non vegetarians. During weddings this vegetarian dish is cooked in homemade masala that is normally used for non vegetarian cooking as a substitute to satisfy taste buds of veg & non-veg food lovers.
I watched my granny cook it during marriage or festivals. During those days a marriage in village would be a collective celebrations and would take place in the courtyard of house. All the expert elderly ladies would be Head Chefs and others would cook under their guidance. Food cooked on chulha in big utensils would give a smoked taste. This dish brings back those lovely memories of unity and togetherness. Now the villages bear deserted look as majority of them have gone to cities for jobs. Marriage or festivals in village bring them together and this special delicacy is cooked.
I am so glad to have the opportunity to cook this at Renaissance Mumbai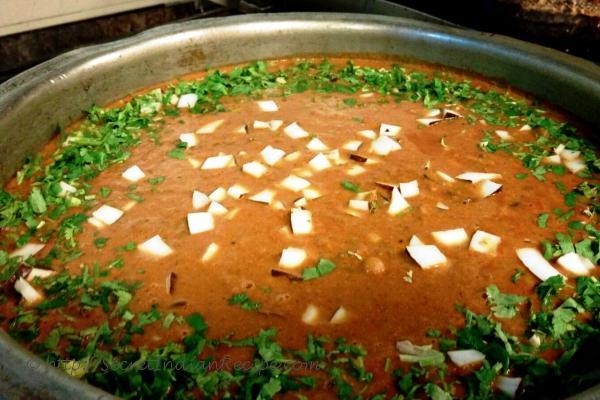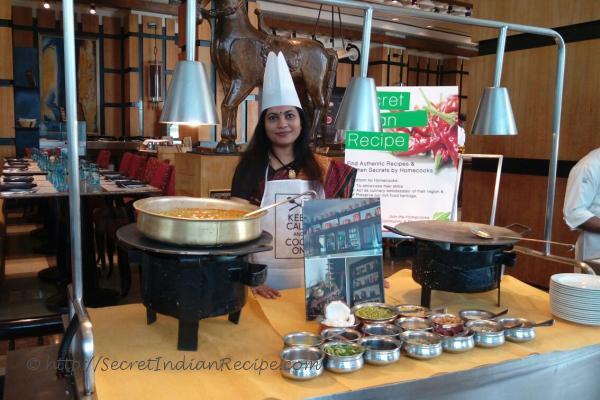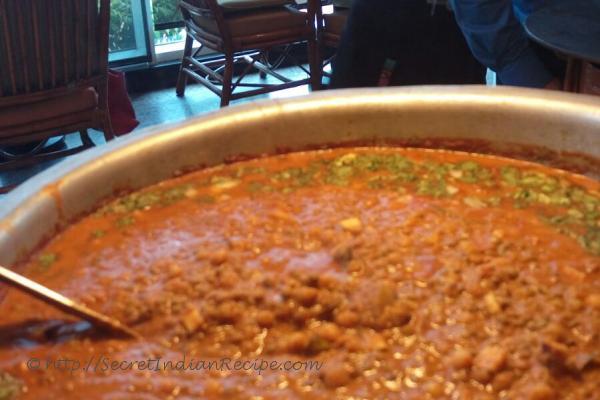 Ingredients:
½ Kg Sprouted Whole Green Gram
¼ kg Sprouted Dried White peas
1 bread fruit peeled and cut into pieces or 2-3 potatoes cut into pieces
2-3 fine chopped tomatoes
Green Masala Ingredients (Sauté All ingredients in 1 Tbsp oil and Grind into a paste)
- 5 green chillies
- ½ bowl fresh coriander
- 2" ginger
- 12-15 garlic
Red Masala (Sauté All ingredients in 1 Tbsp oil and Grind into a paste)
- 5-6 Dry Red chillies
- 1 small freshly grated coconut
- 2 sliced onions
- ½ tsp turmeric powder
- Coriander seeds -2.5 tsp
- Cumin - 1 tsp
- fennel – 1 tsp
- poppey seeds – 2 tsp
- Mace – 2
- black stone flower 2-3
- black pepper – 6-8
- star anise – 1
- cinamon – 1-2"
- cardmom – 2
- cloves – 10-12
- nut meg – a small piece
For Tempering :
- 10/12 curry leaves
- ½ tsp asafoetida
- ¼ t. spoon fenugreek
- ½ tsp mustard
Other Ingredients: oil, water, salt as required.
Directions:
In a big pressure cooker heat 5-6 table spoon oil. Add curry leaves, asafoetida and mustard seeds and let them splutter. Add and Sauté tomatoes till completely soft.
Now add the green masala to it along with the sprouted white peas. Add water & cook until 2 whistles.
Open the pressure cooker & add sprouted green grams, pieces of breadfruit or potatoes, red masala, salt to taste and water (as required). Cook until one whistle as green grams cook quickly.
Now heat 2 tbsp oil in small kadhai and add all tempering ingredients. Let them splutter, when cooked add to the vegetables in cooker
Garnish with coriander & It's ready to serve with puri, chapatti or rice.