Masoor Dal Ki Sabzi (split Red Lentil Curry)
Masoor dal ki sabzi is one of my favourite mummy ka khana (mother's cooked food). The recipe is quite easy and can be a savior on Friday or Saturday evening when you have no vegetables in your refrigerator to cook. More than the taste, it is my memories of childhood which makes this curry special for me. There was a small shanty (Food joint) near our house selling authentic Bihari meals and snacks. The Chief (He was referred as ' Manager Saab') cook was from Bihar and had a passion of cooking new recipes. So apart from his usual menu, at night he used to often try new recipes. This Masoor dal ki sabzi was also invented by him. My father was a close friend and hence he used to often give him a bowl of his delicacies to taste. My father used to bring it at home and we all used to enjoy it. Masoor dal ki sabzi was one recipe which we all liked and thus my father learnt the recipe from 'Manager Saab' and then handed over to my mother. Today I am sharing it with you all.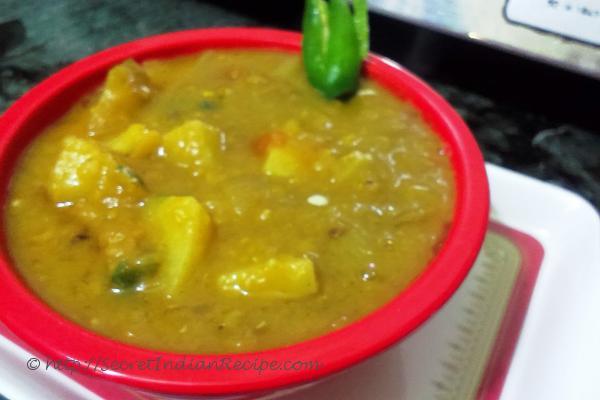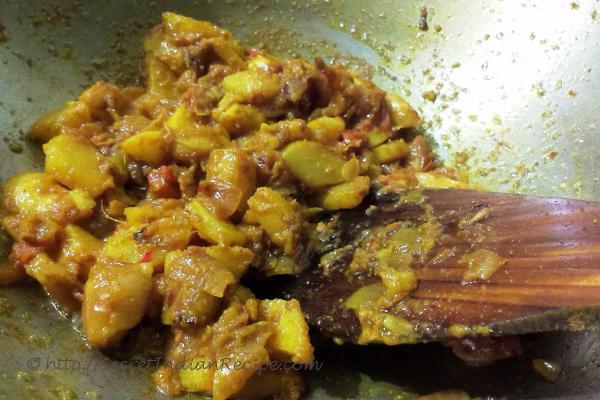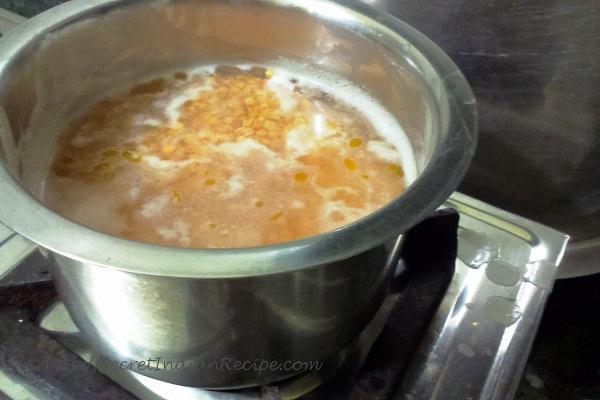 Ingredients:
Masoor dal (Split Red lentil) – 100 grams
Potato – 1 medium sized
Onion – 1 medium sized
Ginger and garlic paste – 1 tablespoon
Whole red chili – 1 piece
Bay leaf – 1 piece
Coriander powder – ½ tablespoon
Cumin powder – ½ tablespoon
Black pepper powder – a pinch
Turmeric powder – ¼ tablespoon
Tomato – 1 medium sized
Garam masala powder – a pinch
Green coriander leaves – for garnishing
Salt – as per your taste.
Mustard oil – 3 tablespoon
Ghee – 1 tablespoon
Directions:
Boil 2 cups of water in a pan. Wash the masoor dal and then put in the boiling water. Keep the flame low and let it boil for 12-15 mintues or till the dal is almost done but not overcooked. Avoid pressure cooking as you may overcook the dal.
Peel and chop potatoes and onion in small pieces and keep aside.
Heat oil in a pan. Crush the bay leaf into three or four pieces and put in hot oil. As it starts changing its colour, add the chopped Potatoes. Saute the Potatoes on low flame till they are half done.
Add the chopped onions and increase the flame. Sauté till the onions start turning brown. , the flame low and add ginger and garlic paste and all dry masala – coriander, cumin, black pepper, turmeric and garam masala and mix. Saute on low heat till the masala starts leaving oil from sides and potatoes and onions are almost done.
Now add chopped tomatoes, salt and the cooked dal and mix. Increase the flame and bring the curry to boil. Again turn the flame low and let it simmer for 2 mintues. Switch off the gas and add the ghee and coriander leaves.
Always serve hot with chappati
Footnotes:
Cook it just in time and in required quantity as it looses its taste and gets thicker after 5 hours.