Murg Lajawab
It is an experimented chicken which I was trying to make something with spices and tomatoes. The flavor in this dish is the best part.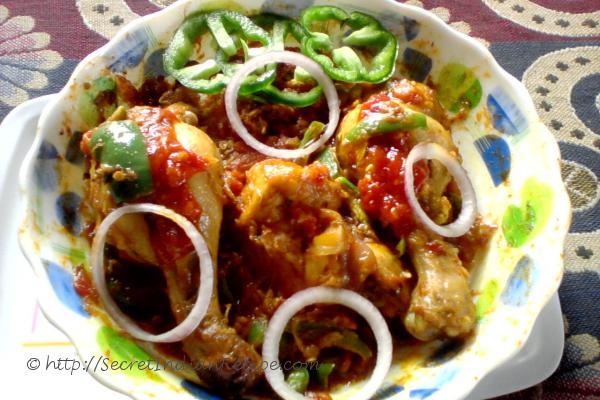 Ingredients:
Chicken- 1Kg
Chopped onion- 300g
Chopped Tomatoes- 6 large
Tomato Puree- 1/2cup
Coriander leaves chopped- 1/4cup
Capsicum sliced- 2big
Green chilli sliced- 4nos
Cumin powder- 1tablespoon
Coriander powder- 1tablespoon
Red Chilli whole(crushed)- 4pcs
Kasoori Methi- 1tablespoon
Oil- 40ml
Salt & Sugar- to taste
Fenugreek(Methi)- 1/2tsp
Directions:
Boil the chicken with salt and keep aside.
Now, heat a pan with oil and add methi and onions and fry till golden brown.
Then add the tomatoes and cook till it tenders.
Now, add cumin,coriander, red chilli powder, and kasoori methi and cook till flavor comes out.
Now add the chickens and tomato puree and mix well.
Then, add salt and sugar, green chilli and capsicum and cook till all the masallas are mixed with chicken.
When oil starts coming from the sides, add coriander leaves and mix well.
When all the things are well tendered, serve hot with Fried rice.
Other Indian Recipes that you may Like !