Nimona (green Pea Curry)
Nimona is a traditional side dish recipe of north India and is usually cooked in winter because of seasonal availability of fresh green peas. It is a typical recipe wherein green pease are grounded into a paste and various spices are added to make a curry. It is usually served with plain rice and is eaten as a substitute for dal and vegetables together.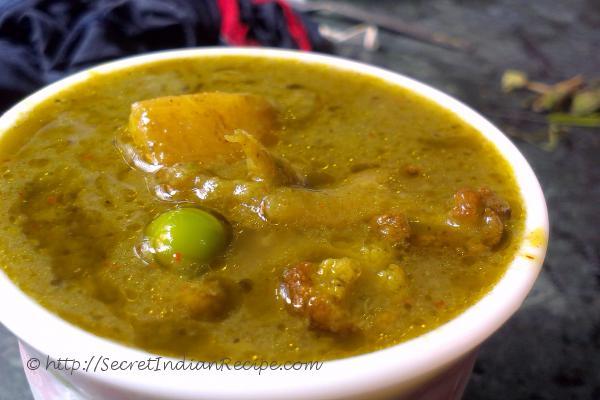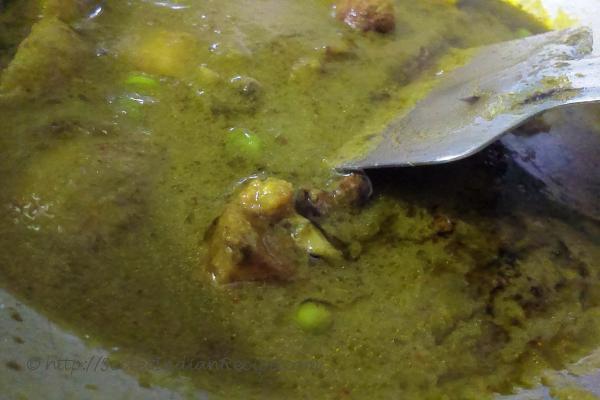 Ingredients:
Hare matar (green peas) 250 grams (9 ounce)
Gobhi (Cauliflower) 1 cup (washed and drained , optional)
Potatoes 4 pieces (quatered)
Coriander leaves 25 grams (1 ounce)
Garlic 5-6 cloves (one can use 2 green garlic if available)
Green chillies 2 pieces
Onion 1 onion
Bay leaf 1 piece
Sabzi masala 1 tablespoon
Salt 1/2 tablespoon
Mustard oil 6 tablespoon
Ghee 2 tablespoon
Directions:
Peel the green peas and take out the seeds.
Grind onion, green garlic, green chillies and coriander leaves into a smooth paste.
Then take half of the peas and grind it into paste and keep it aside.
In a karahi heat oil and fry the gobhi till they turn golden brown. Take them out and fry the potatoes likewise. Once potatoes are done take them out and keep separately.
In the remaining oil put bay leaf and let it pop. Then pour the masala paste and fry till the masala releases oil. This will take about 5 mintue. Then add sabzi masala and saute for a mintue.Then add the green pea paste and fry for 2 more mintues. Then add poatatoes, remaining green pea and mix them all. Add 1 cup of water and cover it with a lid. Cook on low flame till the potatoes are almost done. Add gobhi and cook for 2-3 mintues
Heat ghee in a pan and pour it over the nimona. Serve hot with rice,
Footnotes:
You can use 1/2 tablespoon of coriander powder also, if green coriander is not available. However the colour and taste would also change accordingly.