Pakkavada (ribbon Pakoda)
Pakkavada is a spicy and crunchy teatime snack from the kitchen of Kerala. It is also called in various names as Ola pakkavada, ribbon pakavada etc. Pakkavada is made using a sevanazhi having a special mould which has a cut through which the dough comes out in the shape of a ribbon. So the name "ribbon pakkavada". This is a recipe for all the spicy food lovers and I am sure that you will try it out once you taste it.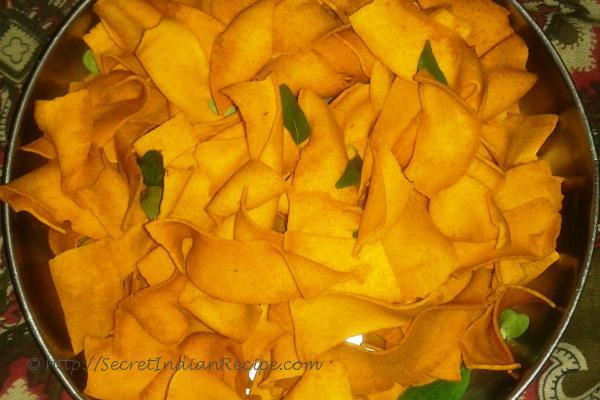 Ingredients:
Rice flour – a handful.
Besan flour - 2 cups.
Chilli powder - 2 teaspoons.
Salt – as you need.
Turmeric powder - 1/4 teaspoon.
Asafoetida - 1 teaspoon.
Oil-to deep fry.
Curry leaves - 4 sprigs.
Water - 1 ½ cups.
Directions:
Sieve the besan flour and rice flour.
Dry roast both the flours until the raw flavour of the flour is gone.
Take a vessel and mix together the chilli powder, turmeric powder, salt and asafoetida.
Add this mixture into the flour and add water little by little into the flour until it makes smooth dough.
Switch on the stove and place a frying pan on the stove.
Add oil into the pan and heat it.
Press the dough through the ribbon mould of the sevanazhi (sevapress), directly into the hot oil.
Fry it for just 3 or 4 minutes and it will be done.
Take it out from the oil and place over kitchen tissue.
Fry the curry leaves until it is crispy.
Mix it with the pakkavadas.
When it is cooled down you can transfer it to an airtight container.