Palak Soya Bean Curry (spinach & Soybean Curry)
This combination of Spinach and Soya bean chunks is very unique. I tried to make this recipe for the first time and it turned out quite nice. I have used Everest sabzi masala in this recipe, but you can use any sabzi masala or the regular cumin, coriander powder along with Garam masala.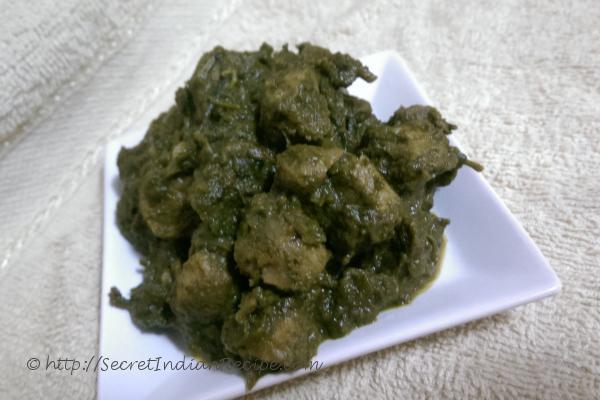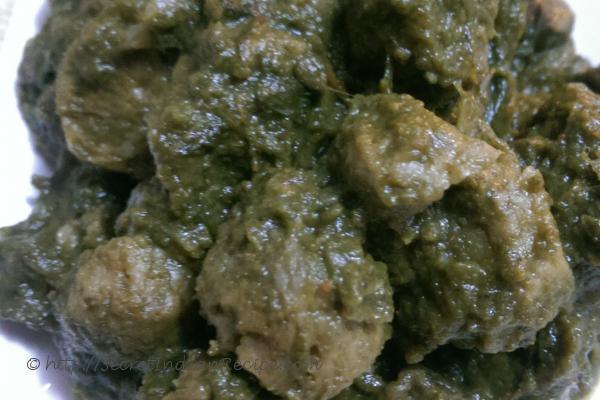 Ingredients:
Soya bean chunks 1 cup
Spinach 1 bunch
Milk 3 tbsp
Onion 1 finely chopped
Tomato 1 small chopped
Sabzi masala 1 tbsp
Garam masala 1tsp
Garlic 1 clove
Green chili 1
Oil for cooking
Salt to taste
Sugar 1 tsp
Directions:
Heat 2 cups of water. When it starts to boil add the soya chunks remove from heat and keep covered for 15 mins.
Blanch the spinach leaves in hot water for 20 mins.
Him a blender, blend together the blanched spinach, one garlic clove and one green chili
Heat 2 tbsp oil in a kadhai. Add finely chopped onions, pinch of salt and saute till onions are soft
Add Sandi masala and chopped tomato
Mix well. Cover and cook for 5 mins on medium heat
Squeeze out excess water from soya granules and add to the masala. Add salt to taste and sugar.
Mix well, and cook covered for 5 mins.
Now add the spinach puree, garam masala and mix well.
Cook covered for 10 mins, stirring 2-3 in between
When the spinach puree starts to thicken and reduces to half, add the milk. Give it a good mix cover and turn off the heat
Let the curry rest for 2 mins before serving
Serve with garam phulkas or steamed rice
Footnotes:
You may also use butter instead of milk at the end for richness