Peeli Dal Fry (yellow Dal Fry)
Peeli or yellow dal fry is a side dish recipe usually eaten either with plain rice and sabzi or with chappati. The main ingredient is Rahar dal wherein other vegetables are added to give it a unique taste.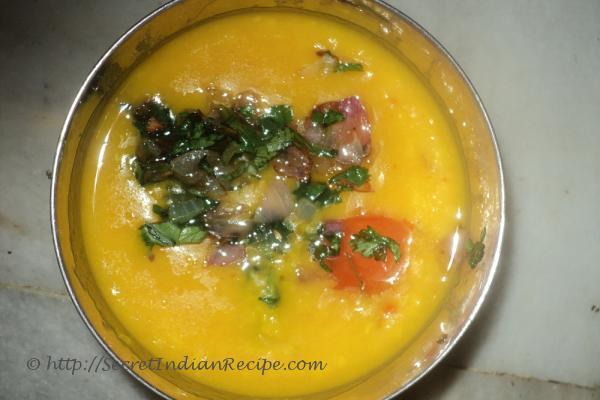 Ingredients:
Rahar Dal ½ cup
Salt ½ tablespoon
Turmeric powder ½ tablespoon
Mustard oil ½ tablespoon
Ghee 1 tablespoon
Green coriander leaves 2 tablespoon (chopped)
Green Chilli 1 (chopped)
Tomato ½ (chopped)
Onion ½ onion (chopped)
Green Garlic leaves 1 tablespoon (chopped)
Directions:
In a pressure cooker boil 1 and ½ cup of water and then add washed Rahar dal, salt, turmeric powder and mustard oil. Cook up to 2 whistles and then let it cool.
In a frying pan heat ghee and add chopped onions and garlic. Saute for a minute and then add tomato and green chilli. Fry till the onion becomes light brown. Finely add chopped coriander leaves and tamper the dal with this tarka. Always serve hot as the ghee will otherwise solidify and will not taste as it should be.