Potli Dal Dhokli ( Stuffed Dal Dhokli)
Dal Dhokli is authentic Gujrati Dish. but here I have given a twist in the recipe.
Its very yummy and unique dish.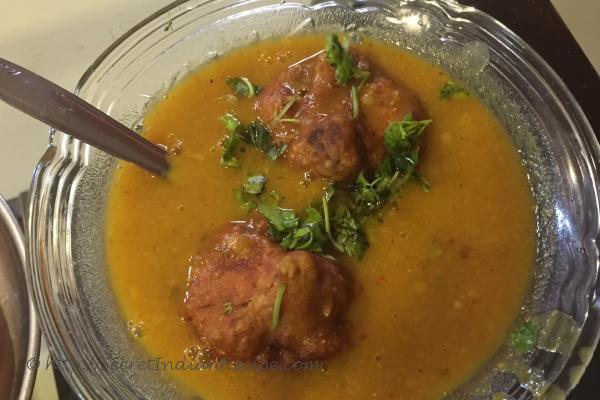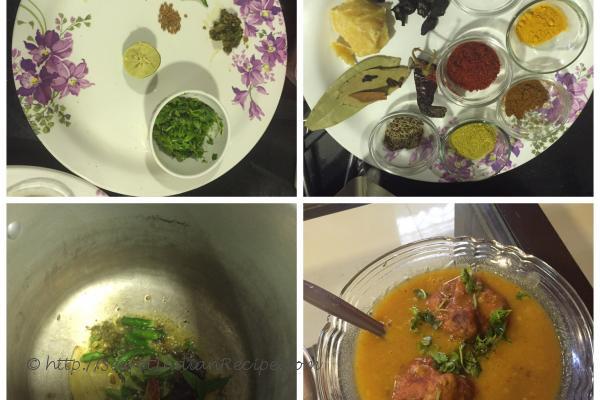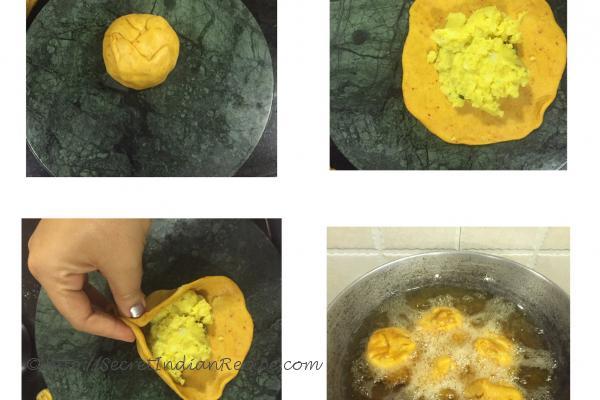 Ingredients:
1 cup Tur dal ( Pigeon pea)soaked for 1 hr
4 boiled Potato
Turmeric, Red chili and Coriander powder ( 1/2 teaspoon and coriander powder 1 teaspoon)
Salt - to taste
Garam masala - 1/4 tablespoon
Bay leaf, clove and 1/2 inch cinnamon stick
Ginger and green chili paste - 1 teaspoons
Coriander and Curry leaves
Jaggery (gud) - 1 lemon size
Musterd seed and Cumin - 1/2 teaspoon
Ghee and oil - 4 tablespoons
Kashmiri mirch dry - 1/2 teaspoon
lemon juice
Kokam
Asafoetid a a pinch
Water
wheat flour - 1/2 cup
Directions:
Make dal: boil tur dal for 3 wishtles in cooker.
Then blend the dal with blender.
Add 1 spoon dhaniya powder,1/2 spoon red chilli powder, 1/2spoon haldi powder, 1/2 spoon garam masala and salt to taste.
Then put 4 to 5 kokam and put a big piece of jaggery ( gud) and 1 spoon lemon juice.
Add 2 cups water and let it boil for 4to 5 min.
Then give a tadka of rai and jeera and kashmiri dry mirch and pinch of hing in 2 spoon ghee.
for potli : Mash the boiled aloo.
Add a pinch of haldi powder and garam masala and salt to taste.
Further add coriander finely chopped and lemon juice and mix. Make small small balls of it and keep aside.
Add required water in wheatflour and make a soft dough. Take small portions from the dough and prepare small rotis.
Keep the potato ball in the middle of each roti and tie it in the shape of a potli.
Deep fry these potlis in oil and then let them cool for 10 mintues.
Now put the potlis in dal and let it rest for 5 min.
Garnish it with chopped coriander and serve hot.
Footnotes:
You can make number of potlis according to your need. u can make it spicy and tangy as per choice.