Prawn Curry Recipe
This dish was prepared by my grandmother. Gondoraj lemon or Thi lime is used to add some extra flavor to it and tomato paste gives a shiny red color.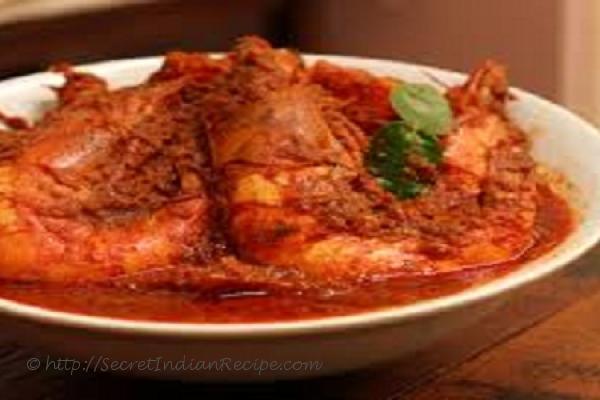 Ingredients:
INGREDIENT FOR GRAVY
Large size prawn – 8
Onion paste- 2 tbsp
Garlic paste – 1 tsp
Red chili paste or powder – 2 tsp
Tomato paste- 1 cup
Lemon juice 2 tsp
Coriander powder 2 tsp
Garam masala powder 1 tsp
Salt to taste
Mustard oil - 5tbsp
INGREDIENT FOR FRY
Rice flour – 5 to 6 tbsp
Milk – ½ cup
Garlic paste – 2 tsp
Melted butter – 2 tbsp
Salt to taste
Oil for frying
Directions:
PROCESS FOR FRY Properly clean prawns, remove main central vein from head but keep the shell. Marinate with salt and garlic paste. Keep in freezer for ½ an hour
Mix milk with rice flour and butter. Make a thick mixture and coat the prawns. Add little amount of oil to fry or roast in a pan . Fry both sides of prawns to make it tender. Keep aside.
PROCESS FOR CURRY Heat oil and add onion and garlic paste and saute for 2 mintues. Add chili and coriander powder and continue to cook. after 2-3 mintues add salt and tomato paste. Cook about 10 minutes.
Add 1 cup water and bring to boil. Add garam masala powder and switch off gas oven
Pour gravy on prawns and cover with a lid. Cook for 10 minutes, now finally add lemon juice and cover until flavor merges with the dish. Serve hot with steamed rice.
Footnotes:
Posted by Tapashi Dey Food Writer & Blogger Visit my facebook page
Other Indian Recipes that you may Like !