Punjabi Chole Masala / Chana Masala / Chickpeas Step By Step Recipe
Chole / Chickpeas is a easy yet delicious dish and a hit for guests or parties. It's a favourite dish of my family and we like it with bhatura's or puri
There are so many recipes for making chole, but I like this recipe. This is easy recipe and it's a hit in my family. I am posting the recipe with step by step pictures, so you can easily make it and surprise your guests with a yummy treat.
You can serve masala chole with poori, fulka or roti but it taste great with bhatura. For guests a hit menu is Chole Masala with Poori accompanied with Jeera Rice, Boondi Raita and Sewai kheer.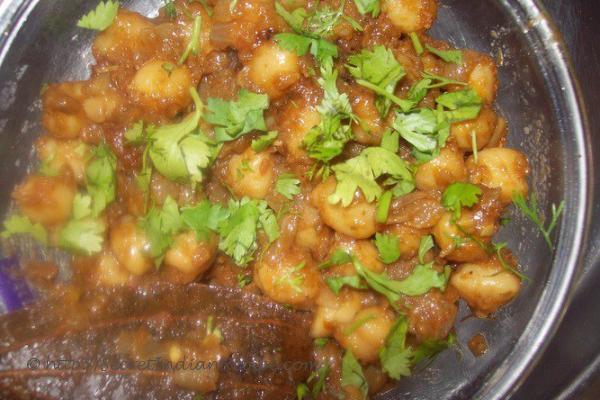 Ingredients:
1 Cup Chole (soaked overnight in hot water)
1 Medium Potato
3 Medium Onions
1 Small Bay Leaf
½ bowl curd
1 tsp. Goda Masala
1/2 Tsp. Cumin Powder
Salt as per taste
Fresh Coriander Leaves
For Masala
4-5 Seeds of black paper
4-5 Cloves
10-12 Garlic Cloves
½ inch Ginger
2 Medium Tomatoes
2 tsp. Red Chilly Powder (or you can adjust as per your taste)
½ Green Chilly
Few coriander leaves to garnish
Directions:
Pressure cook chickpeas along with potato, ½ tsp. salt and 3 cup water, cook till tender. I used to cook till 4 whistles but it depends on your pressure cooker brand so after 4 whistles check the peas cooked or not. The chickpeas should easily get mashed with hands. Drain water from cooked chickpeas, we will use this water in cooking so keep it aside.
Mash the cooked potato and keep it aside. Grind all the ingredients listed under "for masala" and keep the paste aside.
Heat oil in a non-stick pan or heavy bottomed wok, add bay leaf and Stir.
Add finely chopped onions and a pinch of salt.
Cook the onions till golden brown, add the masala paste and mix properly.
Cook till oil gates separated from masala, add some water (just to cover masala) and cook stirring continuously for 2-3 minutes or till water get evaporated. It helps to cook the masala properly.
Add red chilly powder, goda masala, cumin powder, salt as per taste, mix properly and cook for a minute.
Add Mashed potatoes, mix well and cook for a minute.
Add curd and cook stirring continuously for 2-3 minutes. If you don't have curd you can use lemon juice or tamarind.
Add Chickpeas and mix properly, cook for 2 minutes and add remaining water.
Mix well and cook covered for 10-15 minutes. Check after every few minutes and stir the mixture.
Cook till desired consistency.
Punjabi chole / Chole Masala is ready garnish with finely chopped coriander leaves and enjoy with puri or bhatura or roti.
For more interesting recipes and articles please visit my blog www.vslittleworld.com
Footnotes:
To make Punjabi chole you need to soak the chole /chickpeas overnight (approx. 8 to 10 hours) so be prepared a day ahead. For good results soak the chickpeas in hot water.