Rajma
Rajma is very common North Indian dish which is really tasty and highly proteinious. It is leguminous seed which is a rich source of protein.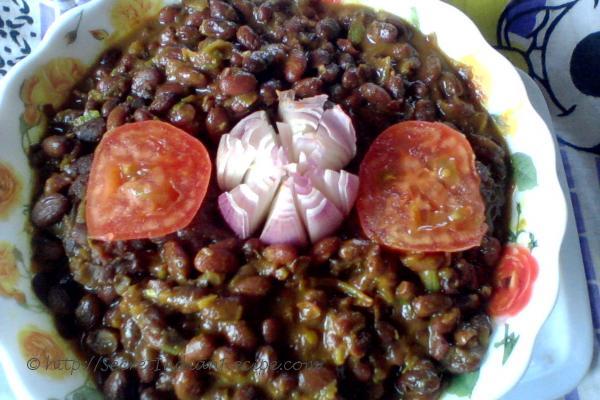 Ingredients:
Rajma- 500g
Chopped onion- 200g
Chopped Tomatoes- 3 large
Ginger+garlic paste- 5tsp
Cumin powder-2tsp
Red chilli powder- 1tsp
Garam masala-2tsp
Green chilli- 4-5nos
Turmeric- 1tsp
Oil- 30ml
Coriander- 1 bunch
Salt & Sugar- To taste
Vinegar- 4tsp
Directions:
Soak the Rajma over-night and boil properly and keep aside.
Now, heat the oil and add chopped onions till golden brown.
Then add Ginger+garlic paste and saute well.
Add tomatoes and green chilli and cook well.
Add all the spices and mix well along with salt and sugar.
When oil starts coming out from the sides, add the boiled Rajma, vinegar and 1/2 cup water and cook for 10min.
When all the ingredients are well cooked, add coriander and serve hot.