Sahi Peanut Chicken
I spend most of my time in cooking various recipes for my family members. While experimenting chicken with peanut and yoghurt I discovered this one. Best suits with Lachha paratha.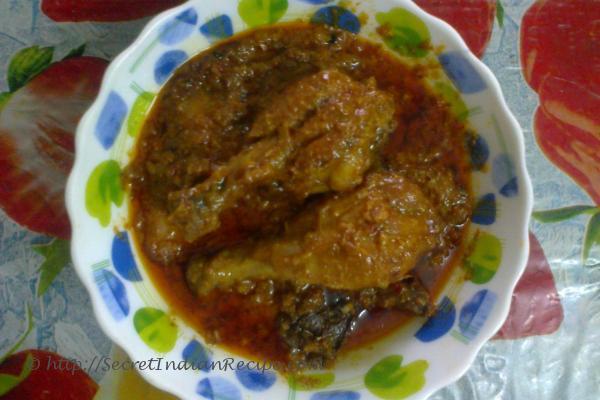 Ingredients:
Chiken Leg piece-4 nos.
Onion-2 big(chopped)
Ginger-garlic paste - 5tablespoon
Garam masala- 2tsp
Peanut paste- 100gm
Turmeric powder- 1tsp
Red Chilli powder- 1tsp
Kashmeri mirch powder-1tsp
Curd-100gm
Ghee-2 tablespoon
Sugar and Salt- To taste
Refined Oil-200ml
Directions:
Deep fry the chicken in refined oil till it becomes golden brown and keep aside.
In da same left over oil, fry the chopped onion till it becomes crispy.
Then add ginger-garlic paste and mix well.
To it, add turmeric powder,kashmeri mirch powder, red chilli powder,sugar and salt to taste and mix well.
After a minute add the peanut paste to the mixture and cook well.
When the paste has been cooked/fried well, add the curd to it and boil for few minutes
Mix all the items well and add some water and boil for less than a minute.
Then add the fried chicken leg pieces to the gravy and cook well so that the gravy enters into the leg pieces.
When the chicken is cooked well, add ghee and garam masala and take it out of the flame.
Serves best with Lachha paratha or Tandori naan.
Other Indian Recipes that you may Like !