Sai Bhaji (sindhi Palak)
Sai Bhaji is also called Sindhi palak and is very popular not just in Sindhi households but all the other communities too. Learn how to make Indian Sai Bhaji.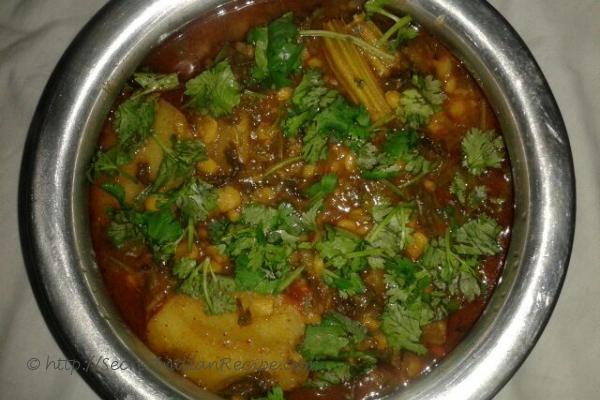 Ingredients:
1 Bunch Spinach or Palak
1/2 Bunch Dill(sua) or coriander leaves
2 Onion (diced)
2 Tomatoes (chopped) 100 gm drumstick 2 potatoes (pield nd cut in rounds)
1-2 tsp Tamarind Juice
1/2 Cup Chana Daal (Soak for 15 mins)
1/2 tsp Ginger (grounded)
5-6 Garlic Cloves (finely chopped)
1-2 Green Chilies (finely chopped)
1 tsp Cumin Seeds
1 tsp Coriander Powder
1/2 tsp Red Chilly Powder
1/2 tsp Turmeric Powder
1 tbs sugar
1/2 tbs garam masala powder
1 tbs curry powder
1 Cup Water
Salt to taste
2 tbs Oil
2 tbs Ghee (Clarified butter)
Directions:
Chop Spinach,Dill and wash properly.
Heat oil in a pressure cooker and add onions.Fry till golden brown.
Add vegetables,soaked chana daal,tomatoes,ginger,garlic,green chilies and all powdered spices except cumin seeds.
Saute for a few minutes till golden brown.
Add chopped spinach and dill(sua) or coriander leaves and tamarind juice.Mix well.add sugar.
Now add water and pressure cook for 2-3 whistles and then let it simmer for 5 minutes.
Heat ghee in a pan for tadka and cumin seeds and 1 chopped garlic clove.Once it starts to splutter pour it on the bhaji.