Salli Murgh (parsi Chicken Curry)
Growing up in Bombay the Irani and Parsi cafes are close to my heart. These parsi cafes in Bombay are the best places to get a taste of their food and culture. The simple flavors, the minimal spices used in this style of cooking are unique.
Dishes like Patra ni machhi and Saas ni machhi are my all time favorites, but the dish that tops my list is the Salli Murgh. I tried preparing this chicken curry and it took me back the memory lane. This may not be the most authentic recipe but it tastes equally good.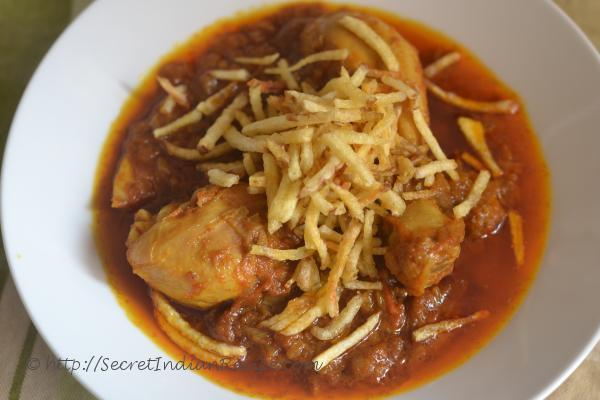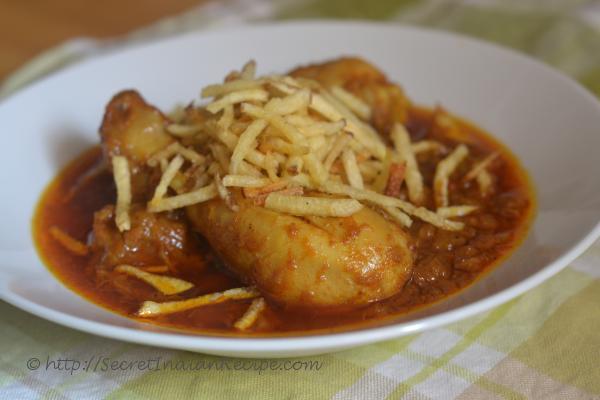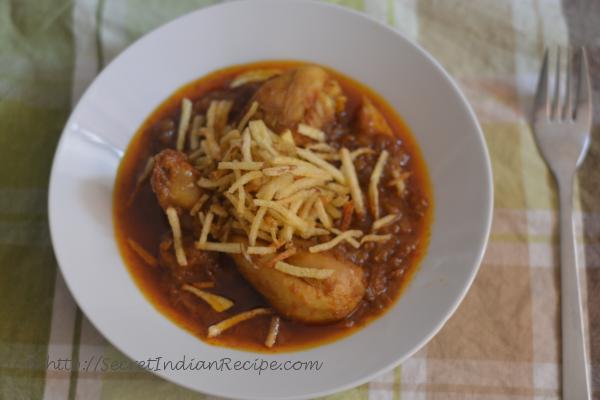 Ingredients:
Chicken : 1 kg (Skinless)
Onions: 6 finely chopped
Chili Powder: 4 tsp (Adjust as per preferance)
Turmeric: 1 tsp
Crushed Garlic: 1& 1/2 tsp
Ginger : 1 tsp grated
Salt to taste
Oil: 6 to 7 tbsp
Dhana Jeera powder (Cumin & Coriander seeds pwd): 2 tsp
Yogurt/ Curd: 1 Cup (About 400 gms)
Garam Masala: 2 tsp
Salli (fried potato Julienne) : 200 gms (one packet is usually 500gms)
Sugar: 1/2 tsp
Chicken stock: 1/2 cup
Coriander leaves for garnishing
Directions:
In a kadhai or deep pot heat oil. When hot, add garlic and ginger. Saute for a minute
Add the onions 1/2 a tsp of salt and mix well. Cook the onions along with the ginger garlic for 3 to 4 mins. The onions should turn slight golden brown by then
Now add in the chicken pieces give it a good mix and allow the onion and ginger-garlic mixture to coat the chicken pieces well.
Cover and let it cook for 10 minutes on medium heat
While the chicken cooks, take a bowl and mix the curd with Chili powder, turmeric powder, sugar and dhana jeera powder
Whisk all ingredients well. Add this curd mixture to the chicken
Give it a good mix, add about 1/2 cup of chicken stock or plain water. Adjust salt and let the dish cook for another 15-20 minutes on medium heat
When chicken is well cooked, remove in a plate and place a handful of salli (Fried potato Juliennes) on top of the chicken
Garnish with coriander leaves and serve with roti or paratha
Footnotes:
You can also choose to make the salli at home. To prepare salli, you will need 4 to 5 potatoes, salt and oil for deep frying
Julienne the potatoes as finely as possible, I suggest use a manual shredding tool or grater. The best would be using a food processor.
Soak the juliennes in water for about 2 hours
Drain all water and keep the juliennes on an absorbent towel
heat oil for deep frying and deep fry the potato juliennes till slight golden
You need to fry at a low temperature as the potatoes need to crisp up without changing colour
Remove on paper towel and sprinkle a pinch of salt (salt ti optional)
Other Indian Recipes that you may Like !