Samosa Ghugni Chaat (potato Stuffed Fried Snacks With Yellow Dry Peas Curry)
Though born and brought up in howrah, west Bengal I have known all the traits of being a Bengali but the blood of a bihari has brought up that twist in a tale making me a cocktail as person. But my love for food sees no boundary and I went on to do my specialization in continental foods.
Still being an Indian I tried in all other departments as well. But life has always played with me and now from being a chef I am a food blogger as well.
This new journey had made me realize one important thing that my love for food did not came over night. It was something which I have inherited from my mother. Since the journey had started it became clear to me when my mother gave all those ideas for inventing new dishes. My next recipe is not any of such new invention but my mother had a different take on it and she made this her own way.
Samosa ghugni chat is also one of the most common snacks from the streets of bihar. A very popular evening snack being eaten over a cup of tea. Samosa being very common snack largely eaten all over india and ghugni very common in Bengal and Bihar made with dry peas.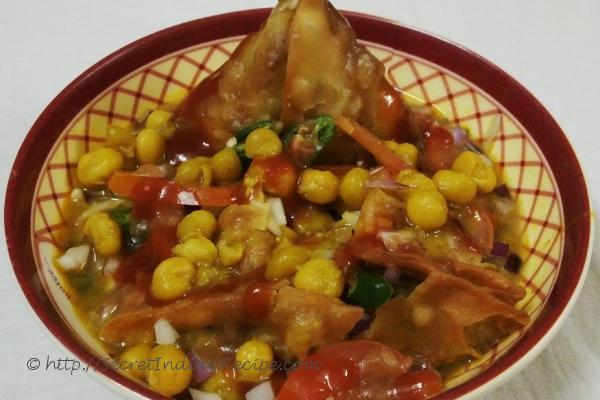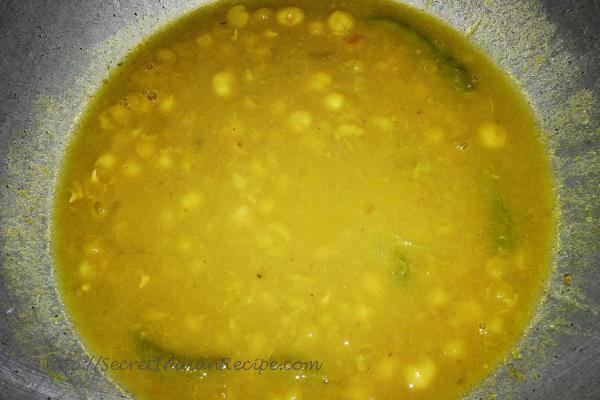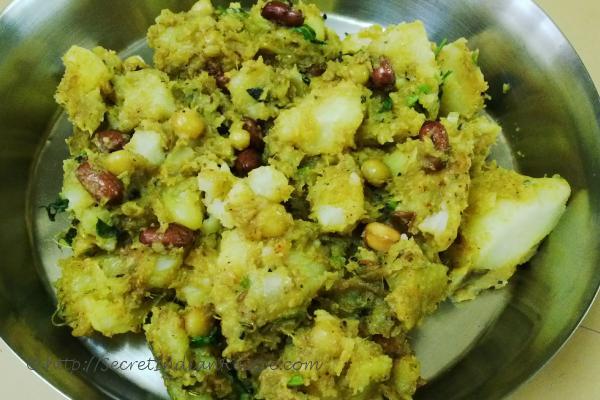 Ingredients:
Soaked dry yellow peas(overnight)- 100gm
Sliced Onion- 2
Slit Green chilly- 4
Ginger and Garlic paste- 1tbsp
Ginger whole- 50 gm
Garlic whole- 100gm
Garam masala powder- a pinch
Roasted Jeera (Cumin)powder- 1tbsp
Black Pepper powder- 1/4th tbsp
Turmeric powder- 1/2tbsp
Bay leaf- 2
Chopped Coriander leaves- 1tbsp
Water- 3cup
For samosa-
Boiled Potatoes-2
Chopped Ginger & Garlic- 1tbsp
Chopped Green chilly-2
Turmeric powder- A pinch
Peanut- 50gm
Bay leaf- 2
Fennel/saunf- A pinch
Carraway/Ajwain- 1/2tbsp
Black Jeera (Onion Seeds)- A pinch
Chopped Coriander leaves- 1tbsp
Salt- To taste
Oil- 750ml
Flour- 100gm
Salt- a pinch
Water- 1/2cup
For the chaat-
Chopped Onion- 1
Chopped Tomatoes- 1
Chopped Green chilli- 1
Chopped Coriander leaves- 1tbsp
Tarmarind pulp- 1tbsp
Tomato sauce- 1tbsp
Black salt- A pinch
Directions:
For ghugni boil the matar along with whole ginger, garlic, 2 green chilly and 1 sliced onion until it becomes soft.
Now heat oil in a kadai. Crackle bay leafs and then add remaining sliced onion and green chilly into it.
Cook the onion for around 5 minutes and then add ginger and garlic paste along with all the powdered masala except garam masala.
Cook the masala for another 5 minutes and then add the boiled matar.
Mix them together and add water & chopped coriander into it.
Check the seasoning and let it boil for another 10 min or until the water dries out a little.
Keep it aside.
For samosa knead the flour along with Black jeera, ajwain, salt, little oil and water. Cover with a wet muslin cloth and keep it aside to allow it to rest.
Crush the potatoes and heat oil in a kadai.
Add fennel and bay leaf till it crackles.
Add peanut, Turmeric powder and stir for 5 minutes.
Add crushed potatoes, chopped ginger, garlic, green chilly and salt. Mix it well.
Cook it for another 5 minutes on a low flame to avoid sticking under the pan. Keep it aside.
Make small rounds of the dough. Roll it in oval shape and cut it half.
Stuff the potato mixture into it and stick the ends with help of water in a triangle shape.
Deep fry the samaosa into oil until it gets good golden colour.
To serve crush the samosa and pour the ghugni over it. Sprinkle chopped onion, tomatoes, Green chilli, coriander leaves and black salt.
Top it with tarmarind pulp and tomato sauce. Your samosa ghugni chaat is ready to eat.
Footnotes:
You can add a little boiled matar to samosa stuffing as well.
Use luke warm water for kneading samosa dough. It will make it soft.