Soya Nuggets Curry (vegetarian Mutton Curry)
Soya Nuggets are made from soybeans and they work well as meat substitutes. Soya nuggets are odourless and tasteless food but this unique food is highly nutritious and full of proteins. It is a healthy food item for young as well as for old people. In Odisha it is known as Soya badi (Vegetarian Mutton). My Mom used to cook it for me, now I am cooking it for my Hubby.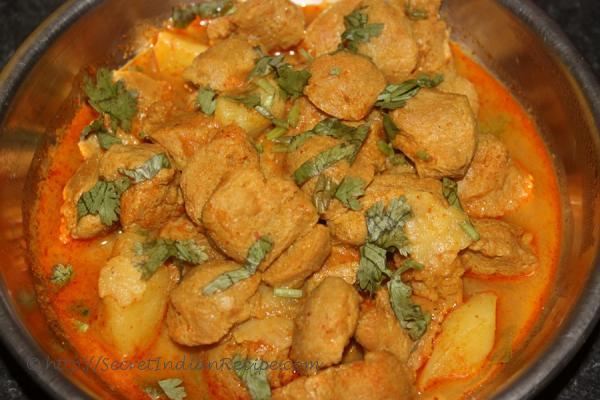 Ingredients:
Soya Nuggets 2 cup
Potatoes 2pieces (boiled & chopped)
Tomato 1piece (chopped)
Ginger Garlic paste 4-5 tablespoon
Onions 2pieces (medium sized chopped)
Turmeric powder 1/2 teaspoon
Kashmiri lal Mirch powder 2 teaspoon
Red chilli powder 1/2 teaspoon
Cumin powder 1/2teaspoon
Coriander powder 1/2teaspoon
Garam Masala powder 1 teaspoon
Salt to taste
Ricebran oil 6 tablespoon
Coriander leaves -Finely chopped as per requirement
Water
Directions:
Soak the soya nuggets in 4-5 cups of hot water for 20 minutes. Remove from hot water and wash under running water. Squeeze out excess water and keep aside.
Heat 2 tablespoon oil in pan, add a pinch of salt in it, add the soya nuggets and fry for 2-3 minutes. Remove and keep aside.
Heat 2 tablespoon oil, add chopped onions and a pinch of salt, fry till it turns golden .
Add ginger garlic paste, kashmiri lal mirch powder, red chilli powder, turmeric powder, coriander powder, cumin powder and little water, stir it.
Add chopped tomatoes into it, cook till it softens and oil separates out.
Now add fried soya nuggets, chopped potatoes and salt to it and stir it for 2-3 minutes.
Once everything is mixed properly add 2 cups of water, Cover the lid and allow it to boil till gravy becomes thick.
Remove the lid sprinkle garam masala and cook for 1-2 minutes more.
Garnish with freshly chopped coriander leaves.
It can be served hot with rice , roti or paratha .