Sprouted And Curried Mung ( Mugachi Usal)
The inner foodie in me craves simple and soul food.. Sprouted and curried Moong or better know as Moogachi Usal in Maharashtra. This delicacy can be made with any beans such as Moong or red beans commonly known as matki in India. Generally the beans are soaked in water and allowed to sprout. The sprouted beans are stir fried along with onions, spices and curry leaves in oil. Little water is put to cook the sprouts or alternatively the sprouted beans could be parboiled in water in advance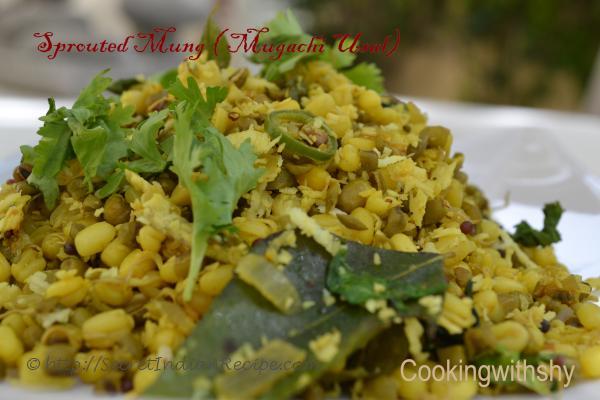 Ingredients:
◾2 cups sprouted Moong beans ( parboiled in water for about 15-20 minutes or till soft)
◾1 medium Onion (chopped finely)
◾2 pods Garlic (smashed)
◾1-2 Green chilies (chopped into halves)
◾7-8 Curry leaves
◾1/2 teaspoon Asafoetida
◾1/2 teaspoon Turmeric powder
◾1/2 teaspoon Chili powder
◾1/2 teaspoon Coriander powder
◾1 teaspoon Mustard seeds
◾2 tablespoons Vegetable Oil
◾2-3 tablespoons freshly grated Coconut
◾Fresh Coriander for garnish
◾Salt to taste
◾Squeeze of lemon juice.
Directions:
Heat the vegetable oil in a pan. Now add in the mustard seeds and let them crackle. Next add in the asafoetida and fry for a couple of seconds.Now add in the chopped onions and fry till transparent.
Next add the turmeric powder, chili powder and the coriander powder. Mix well and add in the chopped ginger and green chilies.
Once the above is fried well add in the boiled sprouted Moong and give it a good stir.Lastly add the salt.
Garnish with freshly grated coconut and chopped coriander. Swqeeze some lemon juice over it before serving.