Haliyali Handvo (sprouted Steamed Moong Handvo Rings)
Handvo is a popular Guajarati snack. This is a baked, spicy lentil cake made with rice flour and different lentils. The batter is fermented, mixed with spices and then is baked. I have given it a twist to make it easier, healthier and nutritious by steaming . I used soya bean flour, sprouted moong and gram flour instead of rice for batter. Try this nonfried –steamed wonderful, healthy Full-Proof Recipe. #SteamedRecipe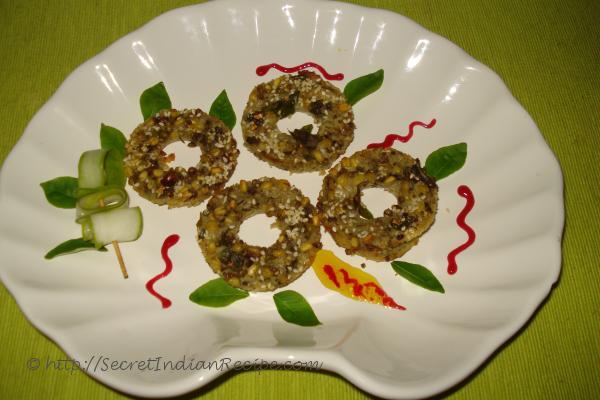 Ingredients:
1 cup sprouted Moong (Green gram)
1tbsp Urad dal flour ( Black lentil flour)
1tsp Gram flour
2tsp grated Carrots or any vegetable of choice (bottle gourd, doodhi)
2 tbsp finely chopped Coriander
1 tbsp fresh Curd
1/2 tsp Sugar
1 tsp Ginger-Green chilli paste
Salt to taste
2 tsp Fruit salt(ENO)
1/2 tsp Mustard seeds
Few Curry leaves
1 tsp Sesame seeds
1/2 tsp Asafoetida
To serve with –Salad, sauces of choice(or green chutney ) ,curry leaves Other material -Ring shaped moulds as required
Directions:
Wash and Drain sprouted moong and grind 3/4 cup of it in a mixer into a smooth paste.
Combine the dal paste, urad dal flour, gram flour, curd, sugar, ginger-chilli paste and salt together in a bowl and mix well to make a thick batter.
Transfer the dal mix into a bowl and let the mix ferment for about 2-3hours. Add carrots, finely chopped coriander and remaining sprouts .
Just before steaming, sprinkle the fruit salt and add 2 tsp of water over it.
When the bubbles form, mix gently, Keep aside. Grease moulds with oil.
Pour batter in greased ring shaped moulds.
Heat oil in a non-stick pan and add the mustard seeds, when the seeds crackle, add, curry leaves the sesame seeds and asafetida and sauté on a medium flame for a few seconds, while stirring continuously.
Pour tadka over batter in moulds .Cover all the moulds with aluminum foil.
Steam in steamer about 10-minutes or till done .
To check the handvo, insert a toothpick in the center of the handvo, if it comes clean, it is done.
De mould and Serve with–salad, sauces of choice and curry leaves .
Footnotes:
Healthy and tasty,desired nuts can be added.