Tandoori Soya Chunks (soya Nuggets Cooked In Tandoori Masala)
Soya is being used a lot in my kitchen these days. I basically make them for salads. If I flavour them with Indian spices my hubby does not mind having it with salads. He thinks they taste like meat then. Accidentally my kiddo discovered soya nuggets and likes it too. So we try making soya once every two weeks. This was an experiment I did recently for rotis and then added it to a Caesar salad. I think it is way healthier than tandoori paneer and it actually should be on menu for weight watchers.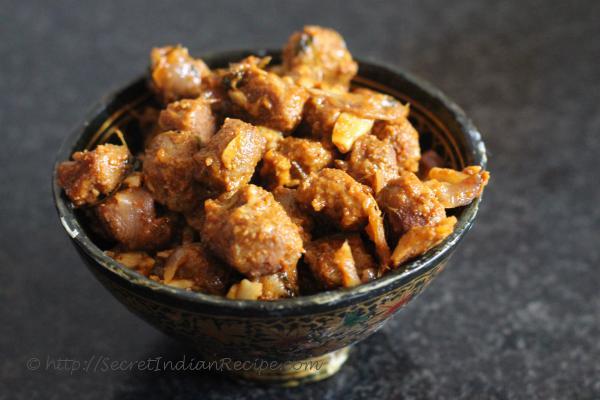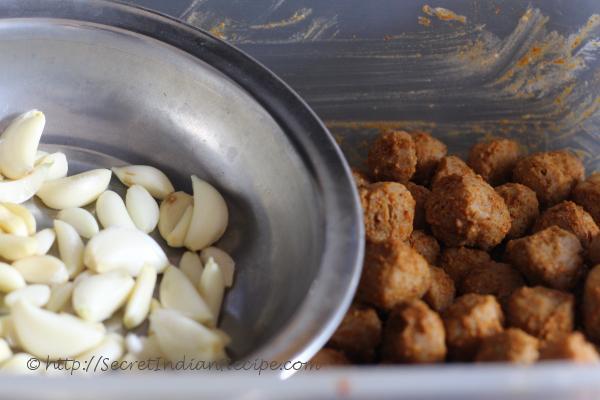 Ingredients:
Soya chunks- 200g
Ginger-garlic paste- 1 tbsp
Curd- 1/2 cup
Chili powder- 1/2 tsp
Kashmiri chilli powder- 1 tsp
Tandoori masala- 1 tbsp
Oil- 2 tsp
Salt- to taste
Kasoori Methi- 1 tsp
Water- 1/2 cup
Directions:
Soak the soya chunks in 1 cup warm water for 1 hour. Squeeze them out of the water and marinate them with all the ingredients mentioned above except oil and water.
Marinate and set aside the soya chunks for 2 hours at least. If you plan to cook this in the oven preheat the oven at 180 degrees.
Grill the soya for 10-15 minutes and you will get perfectly cooked soya chunks.
I cooked it over stove top, for this, heat oil in a pan and saute the soya chunks. Add the water and cook the soya chunks for 15 minutes over low flame.
When the water has evaporated and soya chunks has cooked switch off the flame. You can smoke the soya for giving it a char grilled flavour.
For this take a coal and burn it till it starts to burn completely. Place the coal in a bowl and place it in the pan with soya.
Add a tsp of ghee on top of the coal and close the pan with a lid. Cover the pan for 5 minutes and then take off the coal. Smoky tandoori soya is ready.
Serve with rotis or toss it in a salad.