Achappam (kerala Style Rosette Cookies)
Achappam is a traditional South Indian snack. It is very popular among the Christian families and is often made during the Christmas season. Achappam looks very similar to the Scandinavian rosette cookies. Achappam is made using an iron mould which is available in different designs, but looks very much similar to a flower drawn by a kid. When I was a kid, I used to wear each ring of achappam like a finger ring in my hands and this delicate but crunchy Munchy recipe reminds me of my childhood days. The name achappam came from two words 'achu' meaning iron mould and 'appam' meaning bread.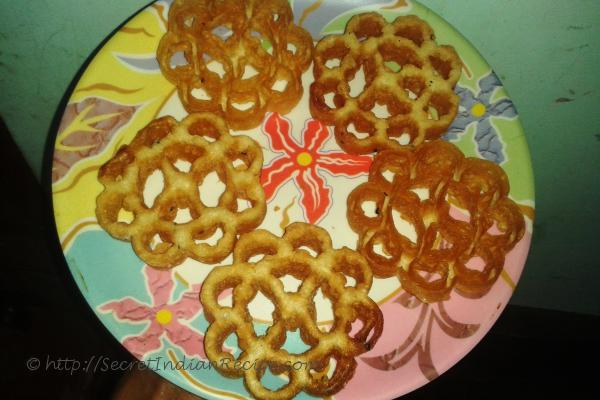 Ingredients:
Rice flour-500 grams
Sugar-1 cup
Salt- a pinch to adjust the taste
Oil –to deep fry
Cumin seeds-1 teaspoon
Sesame seeds-2 teaspoon
Eggs - 2 nos.
Thick coconut milk-2 cups.
Directions:
First sieve the rice flour to get the finely ground flour.
Please note that achappam can be made only with finely grounded rice flour or else we won't get the real taste of achappam.
Powder the sugar in a mixer grinder and keep it aside.
Take a bowl and mix together the rice and coconut milk so that it makes a smooth paste.
Beat the eggs using an egg beater and add it to the batter.
Then add the powdered sugar little by little and make sure that no lumps are made.
Mix everything well.
Add a pinch of salt to the batter.
Add the cumin seeds and sesame seeds into the batter and mix well until everything is mixed well.
The batter should be of semi thick consistency.
Switch on the stove and place a frying pan (preferably an uruli or a thick bottomed vessel) on the stove.
Add oil into the pan and heat it.
When the oil gets heated, just immerse the achu or iron mould into it and allow it to get heated up.
Make sure that the achu is completely immersed in the oil.
Then immerse the achu in the batter.
Please note that only three fourth of the achu is immersed in the batter.
Take it out from the batter and again immerse it in the hot oil.
When the batter is cooked, it will detach itself from the achu or iron mould.
Do the same with the rest of the batter.
Turn both sides of the achappam occasionally.
When both the sides turn a golden brown colour, remove it from the oil and drain it on a kitchen tissue.
When the achappam is cooled, store it in an airtight container.