Cutlet (vegetable Cutlet)
This is a popular snack from India. It is Easy to make and tastes delicious. A great tea time accompaniment.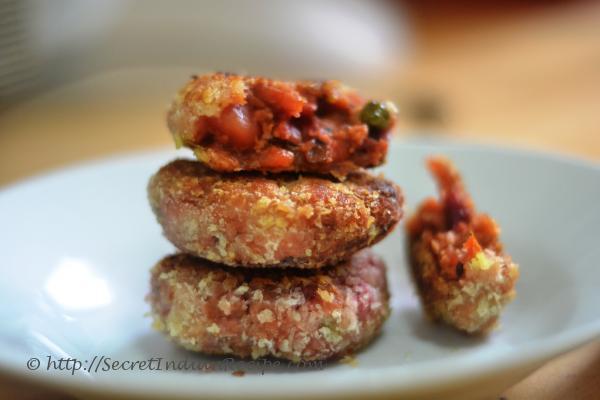 Cooking Time:
5 Mins +(30 minutes to cool)
Ingredients:
6 Boiled Potatoes
2 Cup Peas
2 Boiled carrots chopped
2 Boiled beetroots chopped
2 Cups Breadcrumbs
1 tbsp Garam masala
Salt to taste
2 tsp finely chopped green chillies
1 Tbsp Oil + Oil for shallow frying
1 Tbsp chopped ginger
Rice flour and water slurry
Directions:
In a kadhai or deep pan, heat oil. Add ginger, chilies and saute once. Add peas and fry for a minute.
Now add the beetroot, carrots and salt to taste, mix well. Saute for 2 minutes and add in the boiled mashed potatoes.
Finally add garam masala and give it a good mix, remove from heat and make sure all ingredients are combined well
Mixture will be a little sticky, keep in refrigerator for 30 mins.
After 30 minutes add the breadcrumbs and mix well. Check if the the mixture is mouldable into nice round balls. (if not add more breadcrumbs)
For Coating: Mix 4 tbsp of rice flour with water to form a thick gooey slurry. Spread more breadcrumbs on a flat plate
Now make a small round ball of the mixture and coat it with the rice flour slurry. Immediately give it a second coat of breadcrumbs. Follow this for all cutlets and set aside for at least 30 minutes for the coating to dry
Take 4 to 5 tbsp of oil in a pan and shallow fry the cutlets till golden brown from both sides
Serve hot with sauce or chutney.