Pav Bhaji Sliders
The first time I made this recipe was when I had some left over pav bhaji from previous night. But Since then, I have only been making and service Pav Bhaji in "Slider" style and with a twist. This is an easy recipe and helpful when you are only service nibbles and bite sized with drinks...
Usually for Pav Bhaji you boil potatoes separately, but this is a quick recipe wherein we cook all veggies together without having to boil them in advance.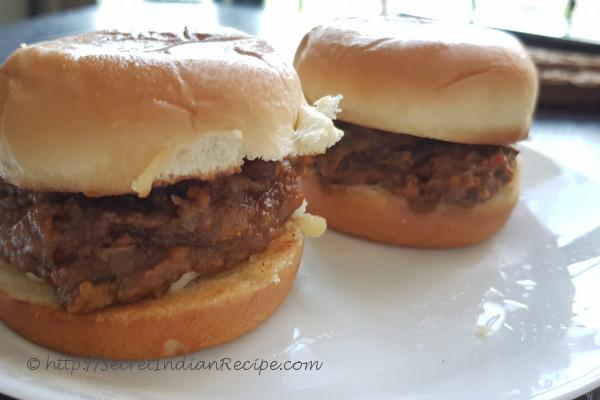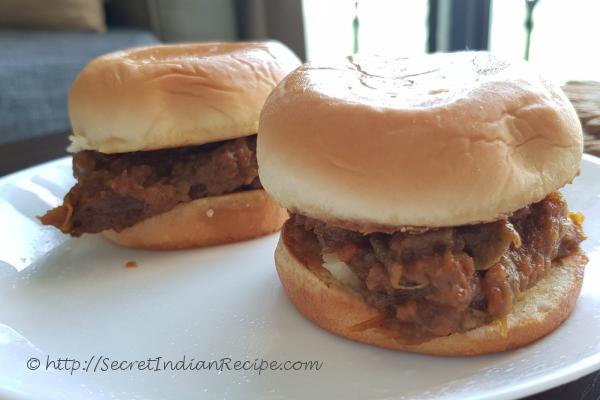 Ingredients:
Potatoes: 2 pcs
Tomatoes: 2 pcs
Turmeric: 1/2 Tsp
Ginger Garlic paste: 1Tsp
Capsicum : 1
Carrot :1
Onion: 1
Beans : 100 gms (optional)
Vegetable Oil : 4 tbsp
Pav Bhaji Masala : 1 Tbsp ( I use MDH or everest masalas)
Dhana Jeera Powder : 1Tsp (Cumin and coriander powder)
Sugar 1 tsp
Salt 1 tsp (to taste)
Mini Burger Buns : 6 Pcs
Butter 3-4 tbsp
Lime juice- 1tsp
Directions:
Roughly chop all vegetables and set them aside.
Heat Oil in a pressure cooker, when hot, add the chopped onions, saute till they are soft.
Now add in ginger garlic paste followed by carrots, potatoes, beans and capsicum. Saute and sweat all veggies together for 5-6 mins.
Add in the tomatoes and mix well. Add Salt to taste , cover and cook for 10 mins.
Now add in tomatoes, mix, cover and cook for another 5 mins.
Its time now to add in the masalas, add pav bhaji masala and dhana jeera powder. You may at this stage add red chili powder if you like some spice!
Now give everything a quick mix, and add 1/2 cup water. You may add some more salt (about 1/2 tsp) at this stage as water dilutes the flavors.
Now pressure cook everything for 15 mins or upto 3 whistles and turn off the flame
After complete pressure is released from the cooker, open the lid, by now all veggies must have cooked and softened. Take a potato masher and mash the bhaji completely.
Add sugar and garam masala.
Mix and mash further till the bhaji is smooth. Add a 1 tbsp of butter and 1 tbsp lime juice (squeeze 1/2 a lime). Mix and keep aside
Heat a pan on the side, brush with butter and toast the burger buns
For assembly, place a small square of sliced cheese on the bun followed by a tbsp of bhaji.
Your Pav bhaji sliders are ready!
Footnotes:
You may add more to the sliders along with the cheese, for example, some onion rings go well too!