Bread Mukki Porichathu (sweet Bread Pakoda Or Bread Fritters)
Sweet bread pakoda or bread porichathu is a popular dish in the local restaurants of Kerala (also called as tattu kadas or Chaya kadas). It is a tea-time snack in the evenings. My husband is a keen lover of it, and so I prepare it frequently in my home. It is best when served hot.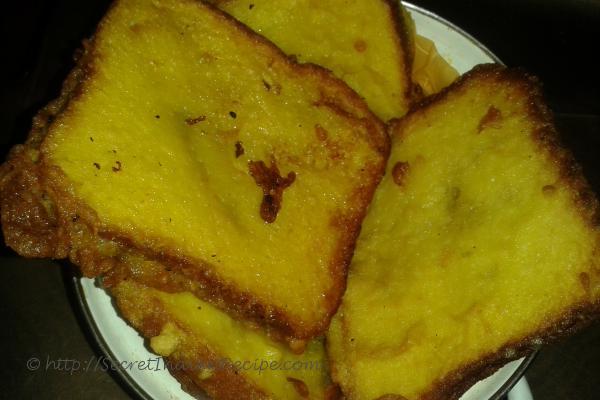 Ingredients:
Bread slices -5 pieces.
Maida or all-purpose flour- 1 cup
Sugar -4 table spoon (You can adjust it according to your taste)
Oil- to deep fry
Turmeric powder -1/4 teaspoon
Water -1/4 cup
Sesame seeds-1 teaspoon (optional)
Directions:
Take a bowl and mix together all-purpose flour, turmeric powder, sesame seeds and sugar with water. (I don't use sesame seeds as my husband don't like its taste)
The batter should be thick but watery too (should be semi thick consistency).
Keep it aside.
Place a frying pan on the stove and switch on the stove.
Add oil into the pan and heat it.
When the oil is heated, take a piece of bread and immerse it in the batter.
The bread slice should be fully coated with the batter.
Then fry it in the oil, turning both the sides.
When both the sides turn light brown color and the batter is cooked well, take it out from oil.
Drain the excess oil with a tissue paper and serve hot.
Footnotes:
You can avoid sesame seeds if you don't like its taste.
Don't immerse all the bread pieces at the same time otherwise they will get soaked and will get broken into pieces.