Chicken Burger With Chicken Soup
As a part of light tiffin,we often lack menus. This is a perfect match for evening tiffin or breakfast.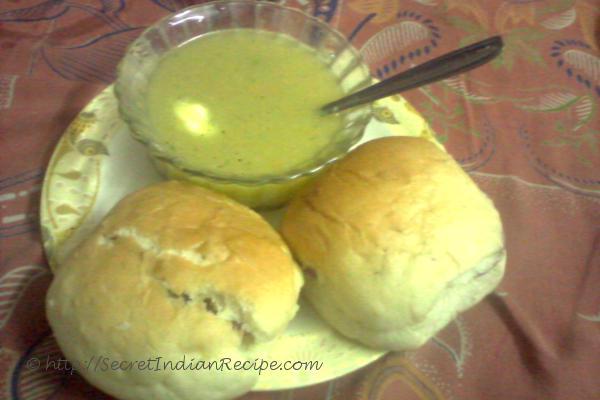 Ingredients:
FOR BURGER:-
Bada Pav- 2pcs
Minced(Keema) Chicken- 100g
Onion(Medium) chopped- 1pc
Greenchilli- 2 nos.
Butter- 2tablesp
White oil- 20ml
Salt- To taste.
FOR SOUP:
Chicken Stock- 250ml
Chopped carrot+beans+onoion- 5tablesp
Chopped garlic- 1/2tablespoon
Egg- 1pc
White oil- 10ml
Salt & Sugar- to taste
Directions:
FOR BURGER:-
Heat a pan and add oil in it,then fry minced chicken with onion and chilli.
Add salt to it and fry for 2 minutes.
Keep the fried Keema aside.
Now, heat the butter in the pan and fry the Pav a little.
Slice the Pav from the middle.
Put the fried keema inside the Pav and press the 2 slices together.
FOR SOUP:
In a pan put oil and shallow fry the garlic,onion,carrot and beans together.
Add chicken stock to it and mix well.
To it add sugar and salt and boil the stock for 5 minutes.
Bit the Egg properly and add to the boiling stock and boil it for another 2 mins.
Remove the soup remove from the oven and pour it into soup bowl.
Add a little cube of butter in it.
Serve the Burger with the Soup.