Chicken Varuval (crispy Chicken)
Chicken Varuval is a spicy, deep-fried chicken dish. This is especially a South Indian dish flavoured with ginger and garlic although the exact recipe can vary. Curry leaves play an important role in the flavour. And I'm very happy that it becomes so good on my first attempt itself. Try Chicken Varuval immediate and enjoy the delicious taste instant!!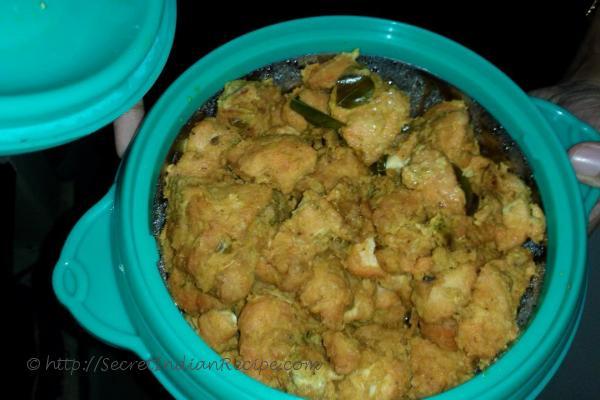 Ingredients:
Boneless Chicken 1/4 kg (Small Pieces)
Oil for deep frying
1/2 cup thick curd / yogurt
Salt to taste
Turmeric Powder 1/4 teaspoon
Red Chill Powder 1 1/2 tablespoon
Coriander Powder 1/2 teaspoon
Black Pepper 1/4 tablespoon
Ginger Garlic Paste 2 tablespoon
Egg 1
Corn flour 1 1/2 tablespoon
Rice flour 1/2 tablespoon
Cooking Oil 1/2 tablespoon
Curry leaves 1 spring
Green Chilly 4-5
Lemon Juice 1/2 tablespoon
Directions:
First marinate the pieces of chicken with large pinch turmeric powder, 1 tsp red chilli powder, 1/4 tsp black pepper, 1 tsp ginger garlic paste, 1/2 tbsp lemon juice and salt. Leave for 1 hour.
In another bowl, mix curd, salt, turmeric powder, 1/4 tsp red chilli powder and 1/2 tsp coriander powder. Then keep aside.
After marinating the chicken, add egg, cornflour, salt and rice flour to coat the chicken. If required add a tablespoon of water.
Heat oil for deep frying. Once oil is hot add few chicken pieces without crowding. Cook in medium flame.
Once the chicken is almost cooked, increase the flame and deep fry till it get golden brown.
Remove onto tissue or any absorbent paper and keep aside.
Now heat another cooking vessel, add a tablespoon of oil and add 1 tbsp ginger garlic paste.
Saute for few seconds. Then add curry leaves and green chillies, again saute for few seconds.
Now add the deep fried chicken, toss well and cook for 3 minutes.
Then add the yogurt mixture and cook on low to medium flame mixing the contents well.
Toss the chicken till the yogurt dries up and let the chicken absorbs the yogurt mix.
Remove onto serving plate garnishing with curry leaves and coriander leaves.
Footnotes:
This chicken would be more delicious only with boneless chicken.