Thandai
Thandai is a popular drink in North India. Thandai is chilled flavoured milk with the goodness of cooling spices and nuts. Thandai is very helpful in summer, it beats the heat. Thandai is mixed with Bhang during Holi. Of course, I did not use Bhang.
Let's celebrate holi with thandai. Happy Holi!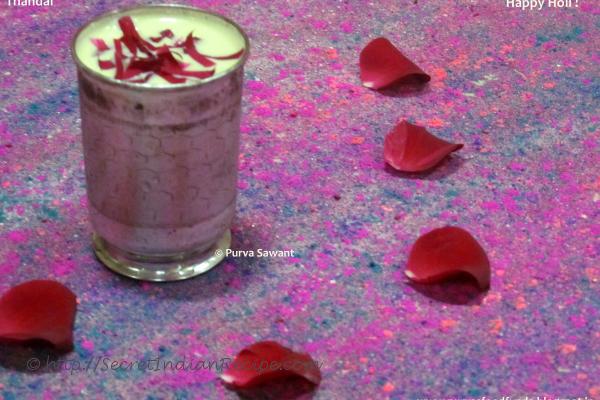 Ingredients:
Milk- 1 litre
Sugar- 4 to 6 tbsp
Almonds- 15
Cashew nuts- 10
Pistachios- 10
Black Peppercorns- 6
Green cardamoms- 6
Cinnamon stick- a small piece
Poppy seeds- 1 tbsp
Fennel Seeds- 1 tsp
Melon seeds- 2 tsp
Saffron- a pinch
Rose water- ½ tsp
Rose petals for garnishing- as required
Directions:
Wash all nuts and melon seeds. Soak almonds, cashew nuts, pistachios, peppercorns, cardamom, cinnamon, poppy seeds, fennel seeds and melon seeds in the little water for 3-4 hours.
Grind the soaked ingredients in a blender to make a smooth paste. Use little milk if required.
Bring the milk to boil. Add sugar and saffron. Give a nice stir to dissolve the sugar.
Switch off the gas. Now add the ground paste and mix well.
Refrigerate for at least for 3 to 4 hours.
Strain using a strainer, add rose water and mix well.
Serve chilled garnished with rose petals.
Footnotes:
This thandai becomes thick if you like thin thandai add extra cold milk in it. Add some sugar also to adjust the sweetness and stir well.
I used that remaining strained mixture in kulfi.
You may use dried rose petals instead of rose water.