Gahori Laihaak ( Pork With Mustard Greens)
A perfect Assamese pork curry for those who are new to pork meat. As it is cooked in mustard oil with lots of greens this curry is light on one's palate as well as tummy. The greens absorb the fat and make the meat taste milder. When compared to the traditional style of pork in my culture (Kerala) I find this preparation healthy and light as well plus it does not need much spices.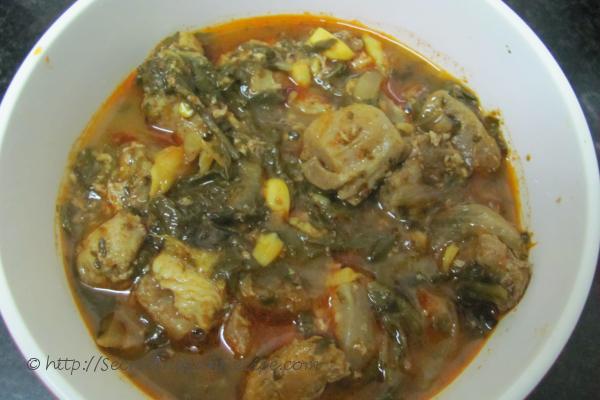 Ingredients:
Pork- 500g
Mustard Greens- 4 bunches
Sorrel leaves- 3 bunches
Ginger- 1 inch piece
Garlic- 6 pods
Green chilies- 4
Mustard oil- 4 tbsp
Turmeric powder- 1/2 tsp
Chili powder- 1/2 tsp
Salt- to taste
Directions:
Pressure cook the pork with 1/2 cup water, slit chilies and ginger up to 3 whistles.
Heat mustard oil in a pan and saute the minced garlic.
Once the garlic browns add the onions and saute for a while.
Before the onions brown add the chili and turmeric powder and saute for 3 minutes.
Add finely chopped sorrel leaves and mustard greens at this point.
Add salt and let the greens cook in the spices. This will release some water that will be the gravy.
Add the cooked pork to this gravy. Do not add the stock from the pressure cooker.
Cook the meat in this gravy for 15 minutes till the gravy reduces to half and the meat has infused into the greens and gravy.
Garnish with coriander leaves but this is optional. Serve with rice.
Footnotes:
1. Adding sorrel leaves is optional, I did not have access to greens available in the North east so I added this for tanginess.
2. You can add tomatoes for sourness instead of sorrel leaves or bamboo shoot if you have access to them.
3. Adding potatoes to this curry is recommended all traditional recipes in Assamese cuisine do so.
Other Indian Recipes that you may Like !