Gothambuada (wheat Pancakes)
In Malayalam we have a distinct term for snacks. It is called as 'naalu mani palaharam' which roughly translates as four o clock snack. Maybe the habit of having snacks for tea is such a mandate in Kerala that a whole new term was created for this purpose. Children who come from school, elders at home, people returning from office all prefer a light snack with tea and mostly these snacks are healthy as in they are steamed or cooked on a tawa but, never fried. This is one such easy naalu mani palaharam that even an eight year old could try. It is not over sweet and can be made with very few ingredients in one's kitchen.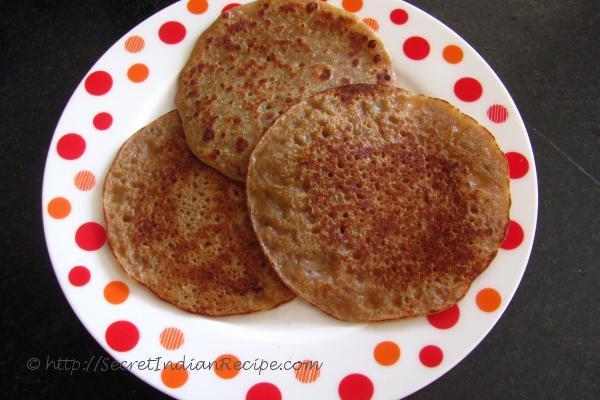 Ingredients:
Wheat flour - 1 cup
Jaggery- 100 g
Cardamom powder- 1 tsp
Sugar- 1 tsp
Grated coconut- ½ cup
Water- 1 cup
Ghee- 3 tsp
Directions:
Heat the jaggery with 3 tbsp water. Filter it to remove the impurities if any, after melting.
Mix the wheat flour with water. Powder the sugar and cardamom together and add this powder to the wheat flour and water mixture.
Pour in the jaggery and mix well using a hand whisk or spatula.
Add the grated coconut and mix well.
Heat a pan and grease with ghee. Pour in a ladle of the ada mixture and when the bottom layer browns flip over to the other side.
Serve when both sides brown. You can also serve these adas with melted jaggery.
If you like it with jaggery syrup reserve a little melted jaggery before mixing it with the flour.