Home Made Snack (nimki)
Nimki' is a Hindi word for salty snack. Any snack which is salty can be called Nimki but in Northern Indian ' Nimki' is used to denote square or diamond shaped fried snack made of Refined flour. It is actually one of the easiest snack to make at home. I remember my mother used to prepare nimki with leftover maida dough after preparing ' Gujia' during Holi or after preparing stuffed green pea Kachoris in winter. She also used to make Nimki and carry whenever we used to go on Holidays. The best thing about these Nimki is that mother used to add ajwain, kallonji and lemon juice, so although these were fried in oil, these were easily digestible. So if you are also looking for a home made snack, try out these Nimkis and enjoy with evening tea.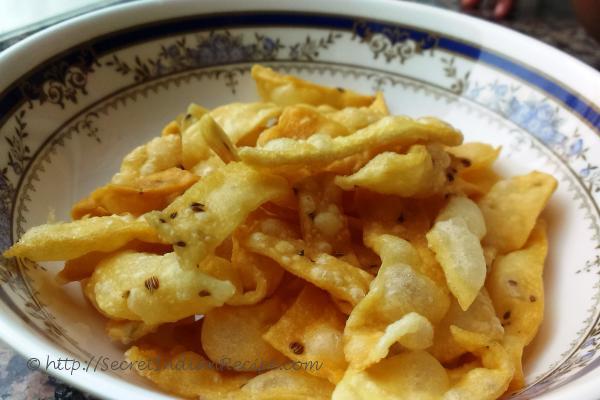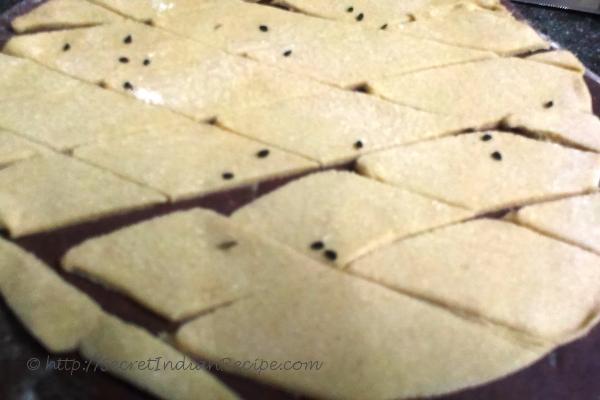 Ingredients:
Maida (refined flour) - 1 cup
Ajwain (Carom seeds) - 1/2 tablespoon
Kallonji (Onion seeds) - 1/2 tablespoon
Water - a little less than 1/2 cup for making dough
Salt - to taste
Lemon juice - 1/2 lemon
Oil - for frying ( Approx 1 cup)
Directions:
Seive maida in a large bowl.
Add salt, ajwain, kallonji, lemon juice and about 1/3 cup of oil and mix well. Ajwain and kallonji not only add to the taste of the Nimki but as this nimki is fried, it helps in easy digestion.
Now slowly add water and mix. The quantity of water to be added depends upon the quality of the refined flour. The dough should be tight, while to try to insert your finger, you have to press a little
Once the dough is prepared, let it rest for 10 mintues.
Heat oil in a pan on low flame.
While the oil is being heated, take a small portion of dough and roll it over rolling spin like chappati. It should not be too tnin or thick just like your stuffed parathas.
Now take a knife and draw some slanting lines over the chapati to get diamon shaped Nimki
Pick each Nimki and put in hot oil. Fry on medium heat till they are just done. Do not let them brown as this will kill the taste.
Take out on kitchen paper and serve. These can be prepared in bulk and can be stored for a month in air tight containers.
Footnotes:
You can add 5-6 tablespoon of Gram flour per cup of maida to add to taste.
You can add red chili powder to make it more spicy.