Kothu Chapathi (scrambled Indian Flat Breads With Meat And Lentils)
Kothu porotta and Kothu chapathi are two life saving recipes one should learn prepare a meal in a jiffy with minimal ingredients. Even otherwise this makes for a creative breakfast if you have some rotis or chapathis in store. The base for this dish is chapathis, onions and tomatoes anything that gets added on top is a bonus. In today's case we had leftover kheema and leftover chole which could not in itself suffice a proper portion but when combined with these they made an amazing filling breakfast. But basically this recipe just needs chapathis or porottas with some basic spices and eggs. If you have leftover rotis you could reheat and use them as strips for this dish. To make it grand as in for a dinner or lunch option you can also add whisked egg over the scrambled rotis and cook it with the other ingredients and serve with a raita.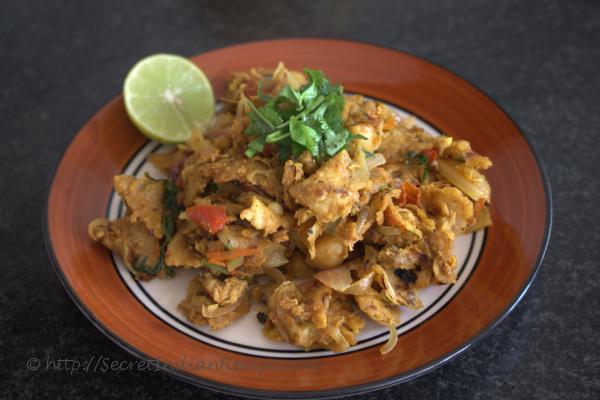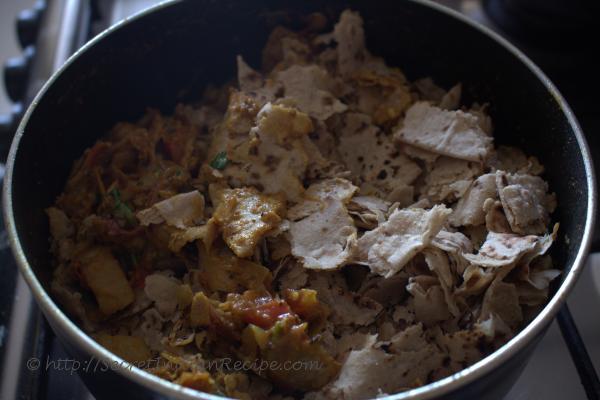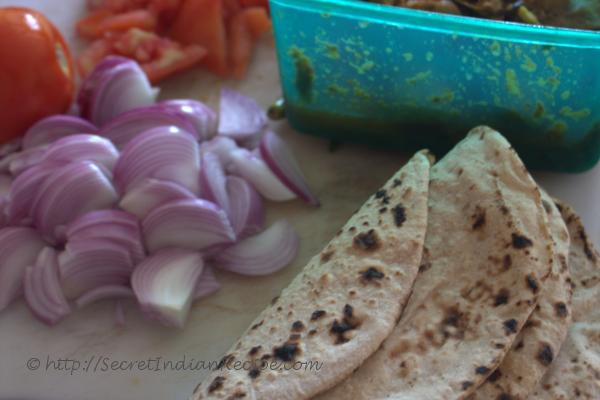 Ingredients:
Chapathis- 8
Onions- 2
Tomatoes- 2
Green Chilies- 2
Turmeric powder- 1/2 tsp
Chili powder- 1/2 tsp
Chickpea curry- 1/4 cup (optional)
Potato minced meat curry- 1/2 cup (optional)
Coriander leaves chopped- 4 tbsp
Salt- to taste
Oil- 1 tbsp
Cumin seeds- 1 tsp
Eggs- 2
Garam masala- a pinch
Curry leaves -5-6
Directions:
Tear the chapathis into pieces. In a pan heat the oil and add the cumin seeds and curry leaves.
When the cumin seeds crackle, add chopped onions and green chilies. Saute them till the onion softens.
Now add tomatoes, salt and turmeric powder, garam masala and chili powder. Saute till the tomatoes wilt and add the leftover curries.
Adding these leftover curries is optional, you can skip this step and add the chapathis instead and if you plan this exclusively and want some non veg components, prepare some chicken curry and use the chicken shredded and gravy at this point.
Cook the curries with the tomatoes and onions for 2-3 minutes and now add the torn chapathis.
Toss the chapathis around so that the get soaked up in the gravy. Break in the eggs into the chapathis at this moment and whisk them around cooking them.
Stir fry for 4-5 minutes till the eggs are scrambled and garnish with coriander leaves. Serve kothu chapathis with onion rings and a lemon wedge or raita and chicken/ veg salan(gravy)