Madakasan (whole Wheat Crepes With Coconut Filling)
Wonderful rediscoveries we make when we start preparing meals for kids. I used to have these madakasans in hostel and we called them love letter then. I assume it was called so because the whole crepe was rolled with sweet coconut filling like one sneaks in a love letter that is filled with sweet words. Back home we call it peera dosa and peera refers to the sweet coconut filling. But now that I am a mom this whole feed healthy concept is getting onto me. So I have done a whole wheat crepe with minimal all purpose flour also known as 'maida' . The traditonal madakasan uses maida though. I am planning to try various flours because the kiddo loved it.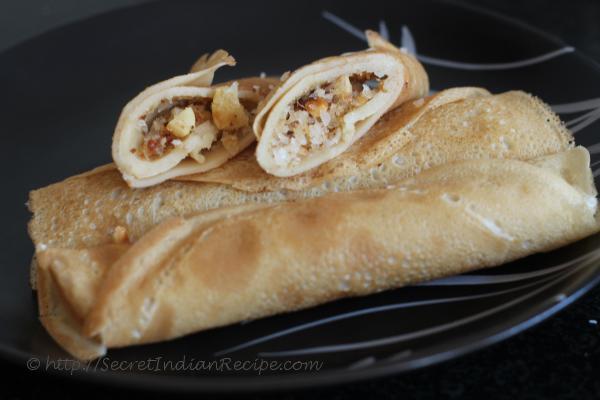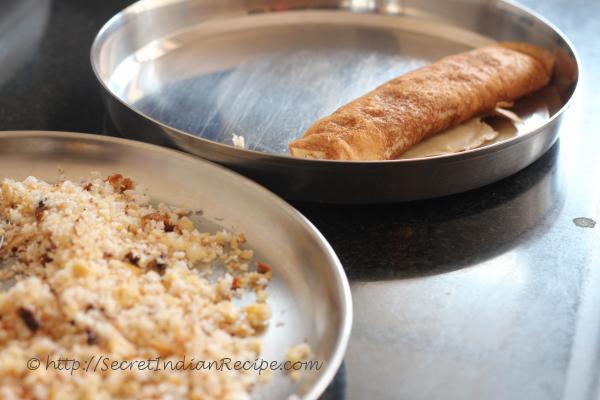 Ingredients:
Maida- 1/2 cup
Whole wheat flour- 1 and 1/2 cup
Egg- 1
Milk- 200 ml
Water- 100 ml
Sugar- 3 tbsp + 5 tbsp
Ghee- 2 tsp
Oil- for greasing the pan
Grated coconut- 1/2 cup
Raisins- 5-10
Cashew nuts- 5
Cardamom powder- 1/2 tsp
Directions:
Heat ghee in a pan and fry the cashew nuts broken into pieces and raisins first. Take them off the pan and fry the grated coconut in the same pan.
Keep stirring the coconut till it browns, and add 5 tbsp sugar and cardamom powder. The coconut will turn browner so stop roasting it further.
Add the raisins and cashews to the coconut and the filling for madakasan is ready. Set it aside.
Prepare a batter by whisking the flours,egg, milk, water and 3 tbsp sugar.
Heat the pan and grease the pan with a bit of oil. Pour a ladle full of batter and twirl the pan in a circular motion.
Do not spread the batter with ladle like you do for dosas just move the pan around like you do for an omelette.
Cook the crepe over low flame and flip onto a plate when you can lift the crepe. You need not cook the other side of the crepe.
Once laid on the plate add the filling and roll the crepe. Madakasan is ready to be eaten. A dollop of ghee or honey would make it taste heavenly.