Missi Roti ( Spicy Chapati)
Missi roti or spicy chapati is an indian bread made with a combination of wheat flour and gram flour and seasoned with spices. Missi roti is generally ordered in restaurants along with dal makhani or jeera aloo. These are soft north indian chapatis which are light and healthy breakfast and an excellent tiffin for children.
I had missi roti for the first time in a restaurant here in India and became a fan of it. Hence, decided to try at home.
So, you also go ahead and try Missi roti at home.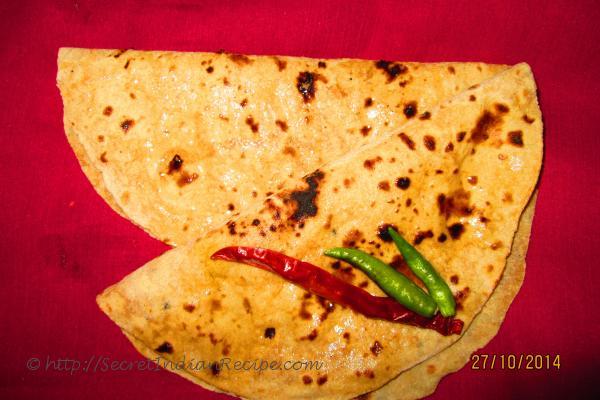 Ingredients:
Gram flour - 1 cup
Wheat flour - 2 cups
Oil or white butter - 2 tbsp
Salt - ¾ tsp
Red chillies - ¾ tsp
Turmeric powder - 2 pinches
Carom seeds - 1 tsp
Pomegranate seeds (whole or pounded) - 1 tsp
Dry Fenugreek leaves - 1 tbsp
Directions:
Mix both flours. Add all other ingredients. Knead to a smooth dough of rolling consistency. Cover and keep aside for atleast 30 minutes.
Shape into 10 balls. Roll out each ball to a slightly thick, small chapati.
Cook it on hot tawa (or pan) on both sides, when half done, roast on both sides on open fire. Spread white butter on hot roti. Serve.
Footnotes:
Missi roti is served with fresh butter and yogurt and mangoes in summer. Tomato or mango chutney goes well with it.