Olya Naralachi Karanji (maharashtrian Fried Sweet With Fresh Coconut Filling)
Karanji is a traditional Maharashtrian sweet. Usually made during Diwali or festive season. This is very similar to Gujiya made in Northern India. Probably the only difference is usage of Khoya. In Maharashtrian karanji the filling is made up of fresh coconut, jaggery and flavored with Cardamom powder. For a longer shelf-life you may use dry or desiccated coconut and sugar. I usually prefer making karanji using fresh coconut for a superior taste. making karanji is quite a time consuming process but if you love sweet savory snacks all the effort is worthwhile. This is one of the most easy recipes, do try preparing karanji this way and let me know how it turned out.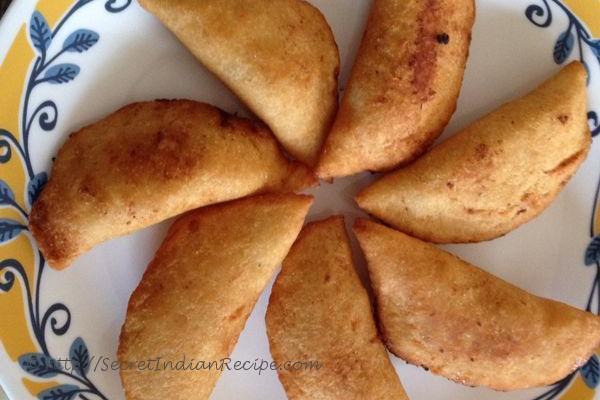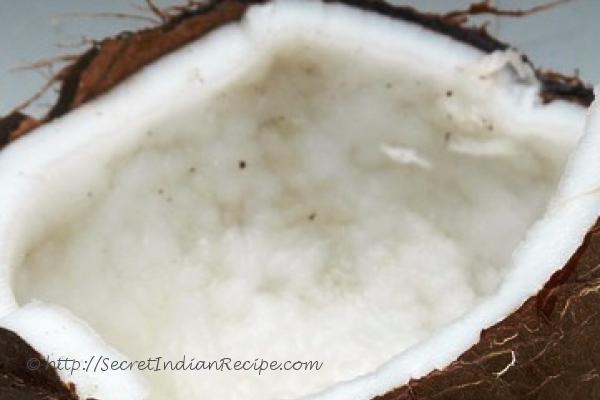 Ingredients:
Fresh Grated Coconut: 250 gms
Cardamom pods: 2
Grated Jaggery (Gud): 400 gms
Rava/ Sooji: 1/2 Cup
Maida (All purpose flour): 2 Cups
Ghee (Clarified butter): 1.5 Tbsp
Cold Milk: 1/2 to 1 Cup
Vegetable oil: for deep frying
Directions:
Remove the skin from the cardamom pods and crush/ grind them using a Mortar and pestle. Grind to a fine powder and keep aside
In a kadhai take coconut and jaggery. Cook on low heat till all jaggery melts and the mixture comes together
Add cardamom powder and continue to cook the mixture on semi medium heat. Stir continuously. jaggery and coconut both have the tendency to burn quickly, so do not stop stirring at any given point of time.
As it cooks the mixture starts to thicken and starts becoming tighter. The mixture shouldn't be runny and watery.
Once it is done turn off the heat and set aside
In a separate bowl mix all purpose flour and rava. Heat Ghee and add it to the flour mix
When it cools down, mix the flour and ghee well. The ghee should evenly be mixed with the flour
Take milk (The milk should be cold and not warm or room temperature) Using milk slowly start kneading the dough. The dough should be pliable but yet not as soft as for rotis. It should be a little hard
Keep the dough covered using a wet cloth for 15 mins
After 15 mins, knead the dough again slightly and make small round balls.
Take one small dough ball. With the help of a rolling pin, roll it flat (same as the size of a poori)
Place a spoonful of the coconut jaggery mixture in the centre
Dip your finger into the milk and apply on the edge of half the poori. Flip the other edge of the poori on to the (milk) edge to seal the filling inside
Be sure that no air bubbles remain inside. The edges should be tightly sealed or the filling may ooze our during deep frying
Press the edges using the back of a fork to give it that spiked desgin. Or if you are able to hand seal the Karanji the traditional way go ahead an seal it
Place the filled karanjis on to a wet towel to avoid drying. Cover the karanji flipping the other side of wet towel on top
Continue this process for all karanjis
Heat oil for deep frying in a kadhai or deep pan.
Slowly fry the karanjis on love heat till golden brown. Remove on paper towel and let them rest for 20 mins. When cooled down, store in airtight container upto 4-5 days. If refrigerated, it can be stored for a few more days.