Rajasthani Laal Murgh (redolent Chicken Curry Rajasthani Style)
Redolent, fiery and flavourful chicken curry cooked with minimal spices, that's how I would describe this chicken curry. The most common version of this curry is the Rajasthani laal maas. It is believed that this curry was invented by the warriors who had to cook in the desserts with minimal spices. They did not carry lots of spices either. Whole spices are what flavours this preparation and perhaps the availability of cattle gave them some curd to add to the curry. Laal murgh gets it's redolence from the Mathania red chilies. Since we do not have access to these chilies Kashmiri chili is substituted for colour. I pressure-cook this curry out of my habit of pressure-cooking laal maas. It also speeds up the process.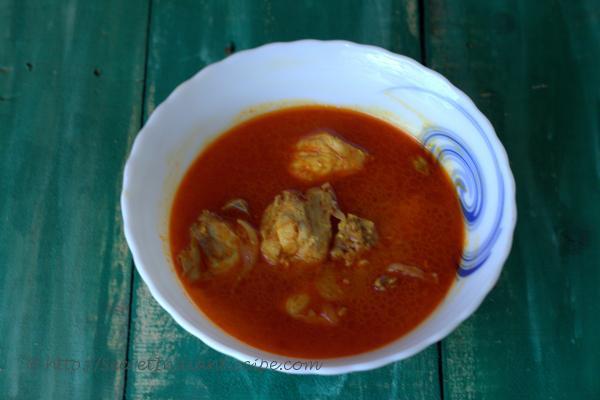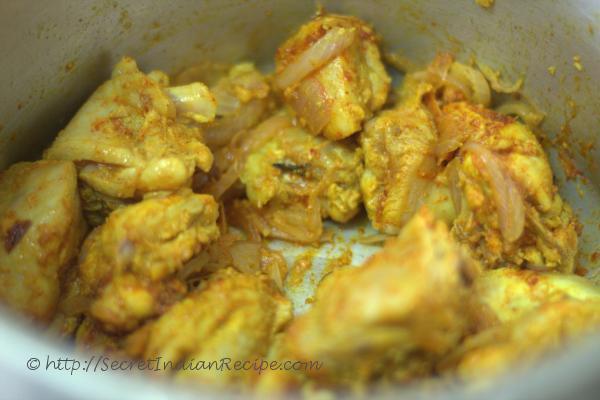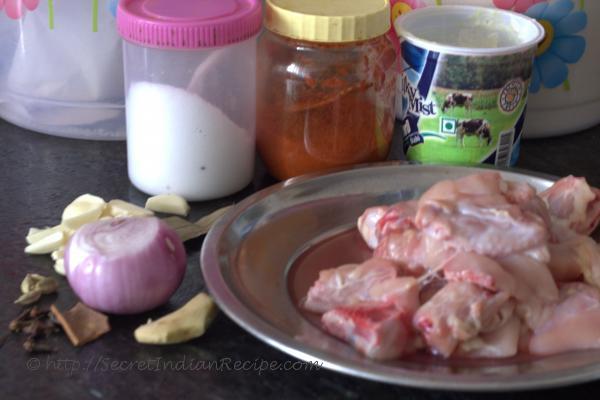 Ingredients:
Chicken- 1 kg
Onions- 2
Ginger-garlic paste- 4 tsp
Garlic- 7 cloves
Turmeric powder- 1/2 tsp
Kashmiri chilies- 2 tsp
Curd- 1/4 cup
Salt- to taste
Cloves- 3
Bay leaf- 1
Mustard oil- 3 tsp
Directions:
Wash the chicken pieces and drain the water in them. Marinate them with salt, turmeric powder and ginger-garlic paste for 3 hours.
Heat mustard oil in a pressure cooker. Let the oil smoke and release fumes. Drop the cloves and bay leaf then.
Let the whole spices infuse into the oil saute them 2-3 minutes for this. Now add the garlic cloves and saute till they brown.
Drop in the sliced onions and saute till they soften. Add the marinated chicken after this point and saute them for 4-5 minutes.
Add salt, Kashmiri chili powder and whisked curd to the chicken and let it simmer for 2-5 minutes.
Pressure-cook the chicken curry with 1 cup of water up to 2 whistles. Uncover the cooker and simmer the curry for 10 minutes before taking it off the flame.
Serve with rice or rotis. Also serve some side salad and buttermilk to wash down the heat from the curry.
Other Indian Recipes that you may Like !