Steamed Chocolate N Fruit Pudding
'Steamed Chocolate n Fruit Pudding', a great option to pamper your chocolate loving family!...
With the goodness of apple and raspberry, this sinful chocolate pudding is moist, slightly tangy and dense. It tastes luscious when served with chocolate honey syrup.
This recipe is one of the easiest desserts that one can prepare. I have used cooking apple and homemade raspberry preserve. But you can try adding any other fruit and preserve of your choice. For the chocolate honey syrup, I have used semi-sweet baking chocolate and honey to have a rich, silky soft topping.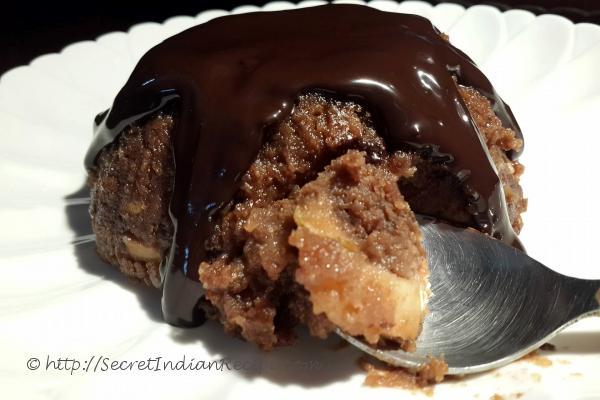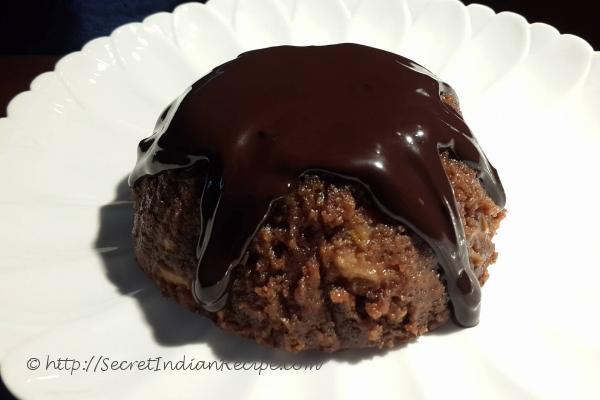 Ingredients:
Maida- 3/4 cup
Cocoa Powder- 3 tbspn
Sugar- 1/2 cup, powdered
Egg- 1
Butter- 1/4 cup, melted
Apple- 1, medium sized (preferably cooking apple)
Fruit Preserve (any flavour) - 2 tbspn
Baking Powder- 3/4 tsp
Vinegar/Apple Cider Vinegar- 1/2 tsp
Vanilla Essence- 1/4 tsp
For Chocolate Honey Syrup
Milk Chocolate- 1/2 cup, grated
Honey- 2 tbspn
Butter- 1 tbspn
Directions:
Peel, core and cube the apple. Drizzle apple cider vinegar over it and mix well. Keep it aside.
Sieve maida, cocoa powder and baking powder twice. Set it aside. Grease the pudding mould with butter and dust it with flour.
Fill 1\4th of the pressure cooker with water and bring it to boil. Cover it with the cooker lid without the regulator.
In a large bowl, combine powdered sugar, melted butter and egg until it looks creamy.
Add the sieved flour, apple cubes, fruit preserve, essence and mix well. Transfer the mixture into the greased mould/bowl and cover it with aluminum foil. Place the cooking rack/ring at the bottom of the pressure cooker. Keep the pudding bowl over the rack carefully and steam it for 45 minutes over medium heat.
Once done, open the cooker lid after the pressure in the cooker reduces. Insert a knife/toothpick at the centre of the pudding. If it comes out clean, the pudding is through with the steaming.
To prepare the chocolate honey syrup, melt the grated chocolate using a double boiler. Add honey and butter. Stir it gently to get smooth, glossy chocolate syrup.
Unmould and invert the pudding over a serving plate. Drizzle chocolate honey syrup over the pudding and serve immediately.
Footnotes:
You can also microwave on high for 5-6 minutes or until the pudding is firm. Use microwave-proof dish and thick greaseproof sheet instead of foil while cooking in microwave.