Ulli Pachadi (curd Flavored With Burnt Onions)
I find curd based curries quite soothing. It soothes my mind as well as my tummy when I have buttermilk based or curd based curry. I hate having curd as it is but love the variations that can be created out of it. Pachadi is a traditional curry served for a sadya (banquet meal) on wedding and festivals. While some pachadis require grinding of coconut some like this ulli pachadi do not require coconut. In fact this is one curry where you do love the burnt flavor.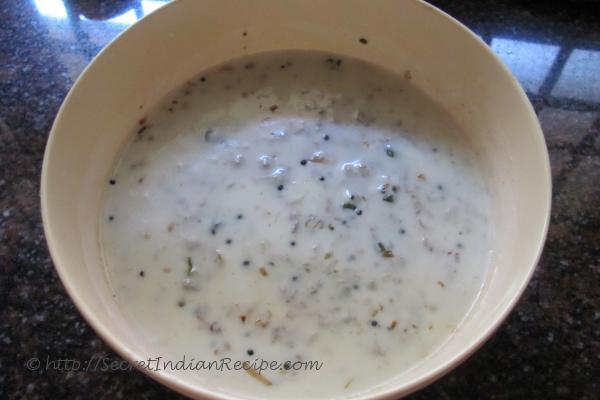 Ingredients:
Onions- 3 large ones
Ginger - 1 inch piece
Green chilies- 3
Curry leaves- 1 sprig
Curd- 200 ml
Salt- to taste
Mustard seeds- 1 tsp
Asafoetida- 1 pinch
Fenugreek powder- 1 pinch
Oil- 2 tsp
Directions:
Whisk the curd with salt in a bowl and set it aside.
The next part in this recipe is a basic tempering.
Heat oil in a small pan and add the mustard seeds and curry leaves when the oil is hot.
Once the mustard splutters, add the chopped onions, ginger and green chilies.
When the onions brown (dark brown but should not burn so much that it tastes bitter) add the fenugreek powder and asafoetida.
After 3 minutes of sauteing switch off the flame and wait for the tempering to cool half way.
Now add the tempering to the curd and stir the curd well, ulli pachadi is ready.
Footnotes:
Shallots can be used instead of onions.
Do not add the tempering to the curd immediately it will curdle wait for the tempering to cool down.