Anda Curry (egg Masala Recipe)
Anda Curry is prepared in many styles. But this one is a typical Maharashtrian Anda curry recipe (Egg Masala Recipe). I have been eating this dish since childhood and it tastes great with steamed rice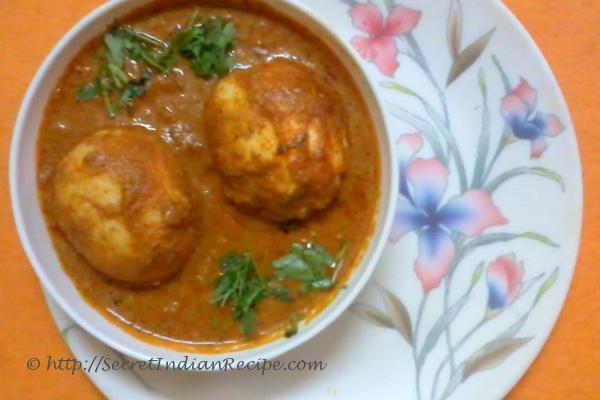 Ingredients:
6 boiled eggs
1 chopped red tomato
2 chopped onions (medium sized)
2 green chillies
1 cup grated coconut
black pepper
2 tbsp garam masala
2 tsp red chilli powder
2 tbsp ginger garlic paste
3tbsp oil
salt to taste
Directions:
Make a thick paste of grated coconut, ginger-garlic, black pepper and green chillies and keep it aside.
Heat oil in a pan. Add onions and cook them till they turn golden pink. Cover with lid to make it cook faster. Then add tomatoes and cook them well. Add the paste, garam masala and red chilli powder to it and cook it for a while. Add salt and cover with lid and let it cook for about 5-7 mins.
Add water as per your choice for thickness of the gravy and bring the curry to a boil. Keep stirring in between, cook it for 10-15 mins. Make slits on eggs and put them in the curry and stir them well. Garnish with chopped coriander leaves.
Footnotes:
You can use black pepper and green chilli as per your own choice.
Other Indian Recipes that you may Like !