Chatpate Ande Ki Sabji (tangy And Spicy Egg Curry)
A full masaledar egg dish. It's our favorite Sunday breakfast dish. Instead of the usual omelet I give it a twist with chaat masala. Chatpate Ande ki Sabji (Tangy and Spicy Egg Curry)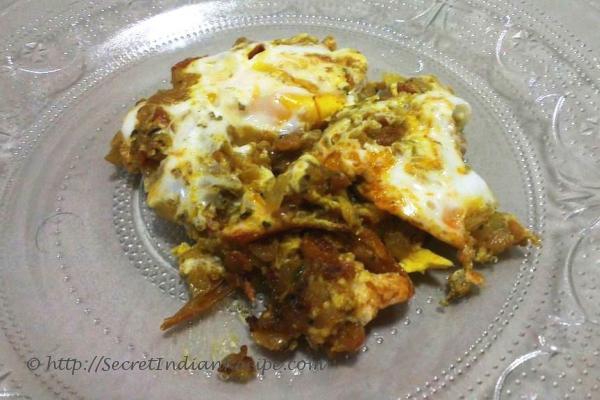 Ingredients:
4 Eggs
2 finely chopped onions
1 Finely chopped tomato
2 cloves minced garlic
1 and half Tbsp chaat masala
Half tsp garam masala
Salt to taste
Oil for cooking (about 3 tbsp)
Half tsp jeera
1/4 Chili powder and turmeric
1 tsp Kasturi methi (optional)
1 Tbsp finely chopped coriander
Directions:
In broad pan heat oil, add jeera and as soon as it starts spluttering add onions and a pinch of salt and stir
When onions are pink add the garlic and stir
Add tomatoes, Chili powder, turmeric, pinch of salt and mix well. Cover and cook till all ingredients are cooked and form a thick brown masala
Add chaat masala, kasturi methi and give it a quick stir.
Now make four wells (like water wells) between the cooked masala and add the eggs into these wells. The egg whites may run into each other which is fine
Sprinkle a pinch of chaat masala onto each of these eggs
Cover and cook on low heat for 4-5 mins
Garnish with coriander leaves, serve hot with bread, roti or rice
Other Indian Recipes that you may Like !