Bengali Egg Curry
A very common Bengali dish which is preferred in most Bengali houses. It is easy to cook and delicious at the same time.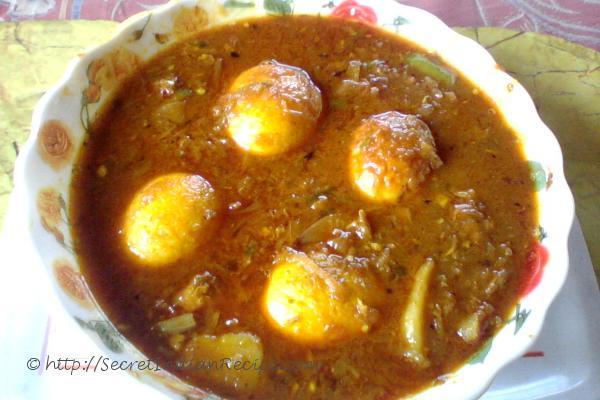 Ingredients:
Boiled Egg- 4 nos
Onion paste- 4 pcs
Potatoes(cut into two)- 8pcs
Ginger+garlic paste- 4tsp
Tomatoes chopped- 2pcs
Red chilli powder- 1tsp
Turmeric powder- 1tsp
Coriander chopped
Salt & Sugar- To taste
Oil- 30ml
Directions:
First boil the eggs and the potatoes together with salt.
Now fry the boiled egg till golden brown and keep aside.
Then fry the boiled potatoes and keep aside.
Now, in the left over oil add onion paste and fry.
Add the ginger+garlic paste and cook.
Now add the chopped tomatoes and continue to cook.
Then add the chilli powder, turmeric,salt and sugar.
When all are well cooked, add some water.
When the water starts to boil,add the egg and the potatoes and cook.
If necessary,add some more water.
When the gravy is ready,add the coriander leaves and serve hot.
Other Indian Recipes that you may Like !