Breakfast Recipe Masala Egg / Spicy Egg Snack
Masala Egg / Spicy egg is simple, quick and easy recipe. You can make it for breakfast or starter or have it as a snack. If you have some boiled eggs in fridge this can be a quick after school snack for your kids or this can be handy when you carve for something spicy.
Just like sabudana khichadi, cheese omelette this is also quick and yummy dish to make on lazy weekend mornings for breakfast. Just cut boiled eggs and fry them in butter and add your favorite seasoning, cheese and enjoy it :)
To make it more tasty you can use butter or olive OIL. As egg contains lot of protein its a healthy snack for kids. You can also top up it with shredded cheese and adjust spiciness as per your kids choice so kids will finish this without any fuss.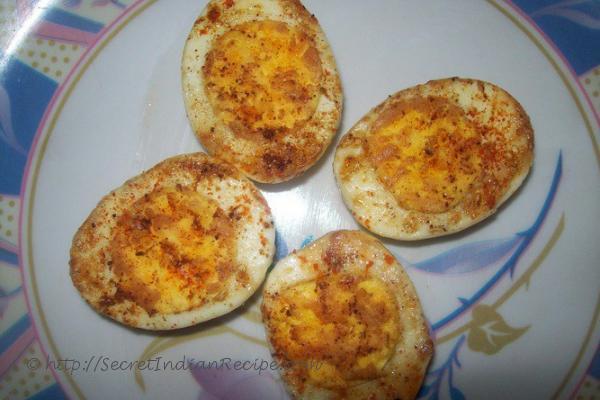 Ingredients:
2 Hard Boiled Eggs
2 Tsp. OIL
Red Chilly Powder (As per taste)
Salt as per taste
Chat Masala (As per taste)
Fresh green coriander leaves (optional)
Directions:
Cut boiled eggs in half.
Heat oil in a non-stick griddle/ tawa on medium heat.
When oil is ready add boiled eggs and keep them for a minute on low flame.
Flip the eggs upside down and fry for a minute.
Add salt, red chilly powder, chat masala and again flip the eggs, add the spices to other side.
Your yummy masala eggs are ready, take the eggs on plate and if you want add some fresh coriander and enjoy the yummy eggs with your favorite TV show or family.
For more interesting recipes and articles please visit my blog www.vslittleworld.com
Other Indian Recipes that you may Like !