Chakkakuru Muringakka Curry (jackfruit Seed And Drumstick Curry)
Jackfruit and drumstick are the very common trees seen in Kerala. So recipes without both two them will make a Kerala recipe totally incomplete.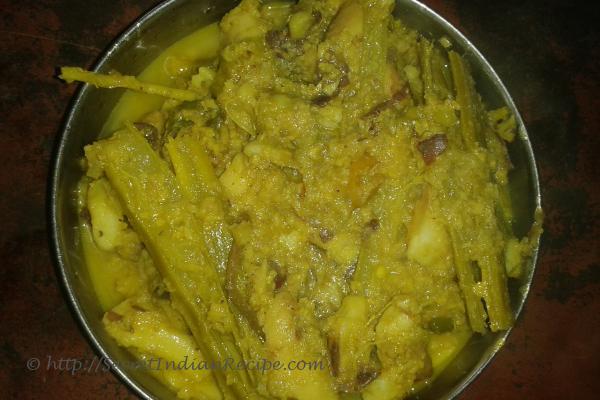 Ingredients:
Jackfruit seeds -250 grams.
Drumstick -2nos
Green chilli-5nos
Curry leaves-2
Grated coconut-1 cup
Turmeric powder-3 pinch
Salt-as you need.
Oil-2 tablespoon
Directions:
Place a pressure cooker on the stove and cook the jackfruit seeds in the pressure cooker for about 10 minutes.
Then put the drumstick along with jackfruit seed, salt and green chillies and cook again.
Roughly grind the grated coconut with turmeric powder and curry leaves.
Then add this mixture into the already cooked jackfruit and drumstick.
Place it again in the stove.
When it boils and reaches the consistency, turn off the flame and pour oil above it.
The curry should not be too watery or too dry.
Before serving, gently stir the curry and serve.
Footnotes:
The curry tastes best when using earthen pot for cooking.
Jack fruit seed can be cleaned easily if you soak it in water for one night and take it the next day.