Chenna Payesh(cottage Cheese And Milk Dessert)
Chenna is very integral ingredient when it comes to Bengali sweet dish recipes. The famous Bengali desserts, ' Rosogulla' and ' Sandesh' is made up of chenna. Another much talked about Bengali dessert is ' payesh' which is cooked with rice and milk. Rice is cooked on low flame in double the quantity of milk, until it reduces to half and then 'Gur' (Jaggery) or sugar is added to make it sweet. In Chenna payesh you replace rice with chenna……but it requires a little expertise.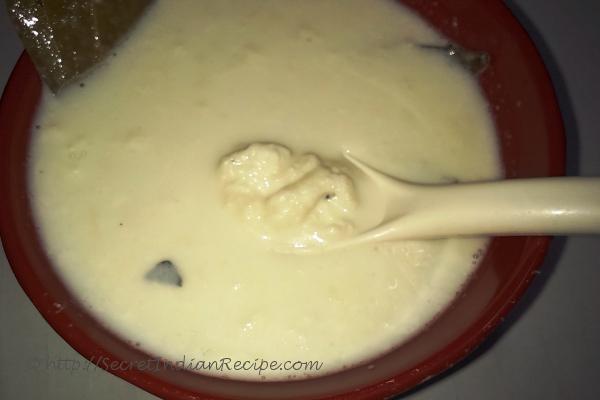 Ingredients:
Cow Milk -1 litre
Sugar – 4 tablespoon or as per your taste
Almonds – 5-6 pieces
Bayleaf -1 leaf
Cardamom – 1 piece
Refined flour – 1 tablespoon
Directions:
Pour half of the milk in a wide container.
Switch on the gas and bring it to boil.
Put few drops of lemon juice to make chenna. You can use the ' Calcium lactate' powder also to make chenna.
Drain the water and put the chenna on a muslin cloth. Closely hold all the ends together so that the chenna does not slip out. Put it under the running water for few seconds. This will help to drain away the sour effect of lemon juice. Now put the chenna under a slightly heavy thing to drain the excess water.
Take the chenna on a plate, add refined flour and 1 tablespoon of sugar and mix. Knead it well using your hand, until the sugar dissolves and it turns into very soft dough. Now make very thin strips out of the dough just like vermicelli. You can use vermicelli machine if you have one.
Now put the remaining milk on the gas and bring it boil. Add bay leaf, crushed cardamom and almonds and let it boil on low heat.
When the milk reduces to one fourth, add the sugar and chenna and continue cooking till it reduces to half.
Chenna payesh is ready. Keep it in refrigerator and serve chilled.
Footnotes:
You can add saffron for colour and aroma.