Chicken 65 (indian Chinese Fried Chicken)
Chicken 65 is a mouth-watering, finger-licking, easy to make, famous appetizer popular for its succulent taste, not only in South India but across the globe. Here, we present you the recipe of Chicken 65.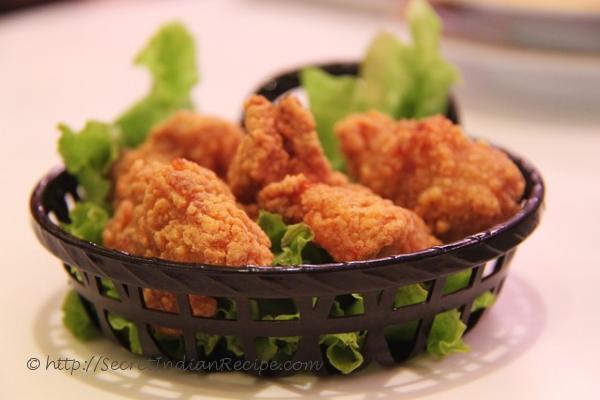 Ingredients:
½ kg Chicken Cooking Oil/butter for frying For marinade: 1 tablespoon Ginger garlic paste 1 teaspoon red Chili powder 1 egg (optional) ¾ tablespoon corn flour or corn starch 1 teaspoon coriander powder ½ tablespoon lemon juice Salt to taste For
Directions:
Take a bowl and mix all the ingredients mentioned in marinade, add chicken in the bowl.
Rub chicken well with the mixture. Let it sit for 4-5 hours.
Overnight refrigeration will work wonders for the chicken. It will make chicken soft and tender.
Take a frying pan; add oil for frying the chicken pieces.
When oil becomes hot, fry chicken pieces in medium flame, cook till they golden brown. Soak them on absorbent paper to drain out excess oil.
For tempering, add little oil in a pan, when oil becomes hot, add all ingredients mentioned for tempering, now add the fried chicken to it and stir well.
Chicken 65 is prepared; you can now serve hot with lemon wedges.
Other Indian Recipes that you may Like !