Chicken Chettinad Pepper Masala (milagu Masala Kozhi)
The balance of flavours is the essence of this Chicken Chettinad Pepper Masala. It is an easy dish to prepare but give it time to slow cook, which helps to draw out the flavours from the spices and aromatics and infuses into the chicken.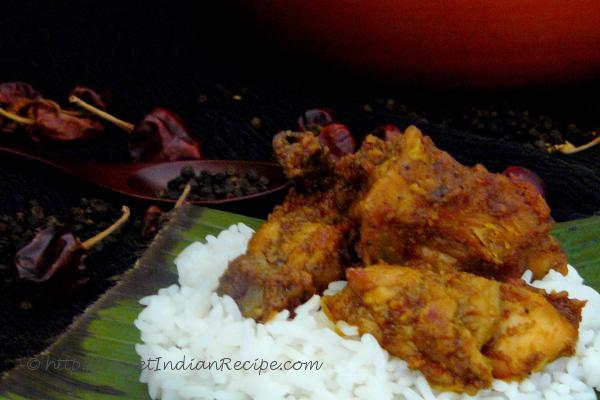 Ingredients:
600 gms chicken, cut into 8 pieces
2 medium ripe, red tomatoes, pureed
¼ cup oil
2 inch cinnamon bark
2 green cardamom pods, lightly crushed
1 ½ medium red onion, finely chopped
Salt, to season
To grind; 1 tsp fennel seeds
To grind; 2 tsp black peppercorns
To grind; 1 tsp cumin seeds
To grind; 4 dry red chilli (round variety/Gundu Milagu preferred)
To grind; 1 tsp coriander seeds
To grind; ½ tsp turmeric powder
To grind; 4 garlic cloves
To grind; 1 inch ginger
Directions:
Dry roast the fennel seeds, peppercorns, cumin seeds, dry red chillies and coriander seeds till fragrant; take care not to burn. Remove and cool.
Grind to a paste with turmeric powder, garlic and ginger; add a little water, just enough to make the wet paste. Keep aside.
Heat oil on high in a large kadai or wok; when the oil is hot enough but not smoking, add the cinnamon, cardamom and chopped onions. On medium heat, sauté the onions till light brown.
Add the tomato puree and sauté for another 2 minutes.
Add the prepared wet paste and mix well to combine, breaking up the lumps, if any. Saute on low heat for about 12 to 15 minutes till the masala comes together and you notice the oil separating at the sides of the pan. The masala would have considerably darkened by this stage.
Add the chicken pieces, season with salt and mix well to combine. Cook on medium heat for 2-3 minutes; then add 1 cup of water. Scrape the bottom of the pan to deglaze and mix well so that the masala coats the chicken completely.
Bring to boil and then cook on low heat for about 20 minutes covered. Stir occasionally. Add more water only if necessary as chicken releases water of its own.
Uncover and continue to cook till the sauce has thickened well and coats the chicken pieces.
Serve hot.
Footnotes:
Note – Chicken Chettinad Pepper Masala pairs well with Indian flat breads but I recommend it with steamed rice, sambar (South Indian lentil stew) and a side of vegetables.
Other Indian Recipes that you may Like !