Coconut Milk Jelly
This is a very easy to make, delicious jelly. I have read the recipe long back from the women's magazine, Vanitha. You can easily try it out and give a sweet surprise to your loved ones. It's one of my favourite desserts.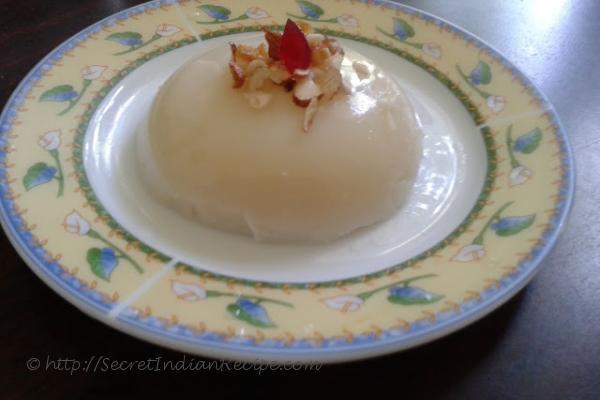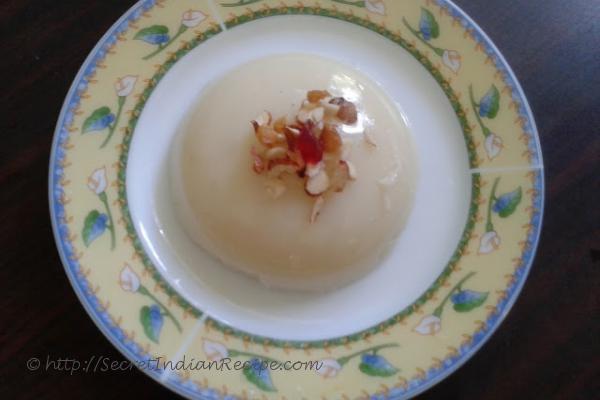 Ingredients:
Coconut Milk- 1 cup
Milk- 1 cup
Sugar-3/4 cup
Gelatine- 1/2 tsp
Water-1/4 cup
Directions:
Dissolve 1/2 tsp gelatine in 1/4 cup of water and keep it aside.
Boil water in a vessel and keep the gelatine-water mixture in the center of the vessel containing boiling water. Stir the gelatine-water mixture until the gelatin gets dissolved completely.
Boil coconut milk, milk and sugar in a hard-bottom vessel.
Stir continuously until the sugar dissolves completely.
When the sugar has dissolved completely, add the dissolved gelatine into it and stir continuously till the mixture gets thickened.
When the mixture gets thickened, remove the vessel from flame and allow it to cool.
When the jelly-mixture gets cooled, transfer it to a serving bowl and refrigerate it for 4-6 hrs.
After 6 hrs, take the bowl from fridge and place it up-side down in a plate and slowly remove the bowl upwards.
Finally, decorate the top of jelly with jam and dry fruits.
Footnotes:
I used the real milk from coconut. Alternately, you can use the coconut milk powder to make the coconut milk for more easy preparation.
In this recipe, gelatine is not directly heated to make it dissolve in water. Double-boiling is used.