No Oil Fish Curry (healthy Fish Curry)
#HealthyIndianRecipe My dad loves fish curries, when he was detected with 45% heart blockage I started to experiment a lot with no oil recipes. His love for fish made me create this 'no Fish Oil' curry. The option was difficult because I was so accustomed with my traditional way of cooking and found it quite a trouble in the beginning. Being a south Indian, I had always cooked fish with coconut. Doctors advised my dad to avoid coconut completely since it adds to the fat content. Honestly, I was inspred by my Bengali neighbours. One day I happened to be chatting away with my neighbour in her kitchen while she was cooking fish. And how glad I am that I was there! She used very less oil and that too just to fry the fish. I then adopted her style of coking and cooked it with no oil. Surprisingly my dad Loved it and now I cook it very often. Try my #NoOilFishCurry I bet you will love it too!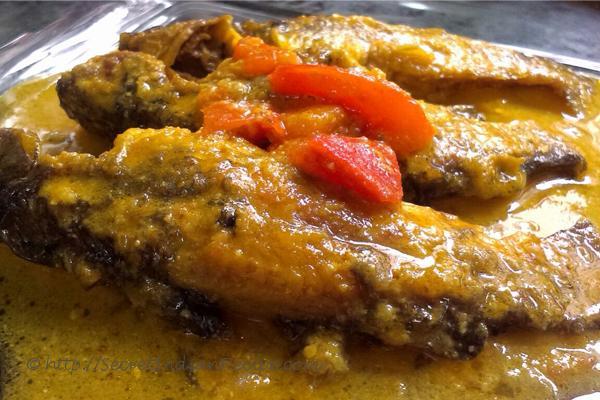 Ingredients:
Any Small fish - 4 pieces
Yellow Mustard seeds - 1/2 tablespoon
Poppy seeds - 1/2 tablespoon
Dry Red chili - 1-2
Garlic - 4-5 pods
Turmeric Powder - a little less than 1/2 tablespoon
Salt to taste
Tomato - 1 small sized
Coriandar leaves - 2 tablespoon ( Optional)
Directions:
Wash and throughly clean the fish in warm water. Remove the intestine and other innards. Clean it will
Marinate the fish with Turmeric powder and salt for 15 mintues.
In the meantime grind Mustard seeds, Poppy seeds, Red chilies and garlic with 2-3 tablespoon water into a smooth paste.
Take a pan and mix the ground paste with 2 cups of water. Add chopped tomatoes, turmeric powder and salt to taste. Give a gentle stir and then switch on the gas.
As soon as it comes to boiling point, add the fish. Put the flame low and cover the pan with a lid. Let the fish cook slowly for 15-20 mintues.
Stir once or twice in between. When the fish is cooked completely and the gravy is reduced to almost 1/4. Switch off the gas.
Garnish with Coriander leaves and serve hot with steamed rice.
Footnotes:
You can add little kasuri methi to get the royal taste
Other Indian Recipes that you may Like !