Kallumakkaya Achar(kerala Style Mussels Pickle)
As said already in my previous post on kallumakkaya ularthu (Find link here http://secretindianrecipe.com/recipe/kallumakkaya-ularthu-kerala-style-m...) I pickled the remaining mussels we got back home for Christmas. Like any other seafood that is expensive in Bangalore, this special delicacy is now being consumed in pickled form post- Christmas. While I do not enjoy the pickle version as much as I do in curry form, the fact that I can at least taste this delicacy once in a while makes me grateful for this little treat.
For those of you who have access to kakkairachi (clams) a similar version of mussels, you can try pickling it using the same recipe.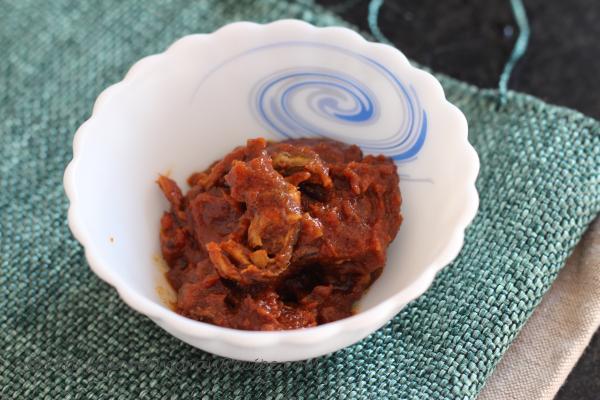 Ingredients:
Kallumakkaya- 250 g
Garlic- 200 g
Ginger- 150 g
Chili powder- 7 tsp
Turmeric powder- 3 tsp
Fenugreek powder- 1 tsp
Asafoetida- 2 tsp
Salt- 3 tsp
Water- 500 ml
Gingelly oil- 1/2 liter
Mustard seeds- 1 tsp
Vinegar- 1/2 liter
Directions:
Cleaning the mussels constitutes the first step. If you buy it with the shell wash it well and add it to 2 cups of boiling water.
The tight lipped shells will open up after 10-15 minutes. Switch off the flame after this and when the water has cooled down remove the mussels from the shells.
You will see black intestine in the center of mussel meat take this out by pressing the bulged center of the mussel. If you buy cleaned mussels you can omit all these steps.
oil the mussels with 1/4 tsp turmeric powder and 1 tsp salt with 1/2 cup water. Cook for 5- 10 minutes and switch off the flame.
Overcooking makes the mussels rubbery so do not overcook the mussels. To begin with the pickling, make a paste out of the ginger and garlic.
Heat the given quantity of oil in a pan. Add the mustard seeds first and when they splutter, add the ginger garlic paste.
The paste will start to splash all over. Reduce the heat and keep sauteing till the rawness of the ginger garlic paste goes away and it starts to brown slightly.
Now add the chili, turmeric, asafoetida and fenugreek powders and saute for 2-3 minutes. Boil the water and vinegar together with salt in another pan for 10 minutes.
Add the mussels to the spices and stir them so that they coat in the spices. Add the boiled salt and vinegar water to the mussels and bring the pickle to a boil.
Let the pickle boil for 2- 4 minutes before switching it off. Let the pickle cool down completely.
Store the pickle in airtight, sterile jars and it can be stored up to a year in the refrigerator.
Other Indian Recipes that you may Like !